Row over Tom Watson culture committee role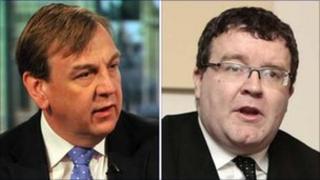 Newly appointed shadow cabinet member Tom Watson has refused to step down from the Commons culture committee despite calls to go from its chairman.
Conservative MP John Whittingdale told the Guardian Mr Watson could no longer be independent and should step down.
But Mr Watson said he was "not budging" and as the party's new deputy chairman, he would not hold a frontbench policy brief so independence was not an issue.
The culture committee has taken a lead role in investigating phone hacking.
Mr Watson and Mr Whittingdale have both been outspoken on the issue, personally questioning News International executives earlier this year.
'Unprecedented'
Labour leader Ed Miliband chose to promote Mr Watson, MP for West Bromwich East, in his wide-ranging shadow cabinet reshuffle.
The former digital enhancement minister will be both deputy chair and campaign co-ordinator for the party.
Mr Whittingdale does not have the power to force Mr Watson out, but he said parliamentary convention dictated that he should go.
"If Tom is going to be a member of the shadow cabinet he should step down, no question. It would be unprecedented for a member of the shadow cabinet to be on a select committee," he told the newspaper.
"On the front bench you are bound by collective responsibility and so you are not independent. It would go against the whole principle that these committees are made up of backbench MPs."
Mr Whittingdale said Mr Watson had been "an exceptionally effective member of the committee", but the matter came down to "principle".
In response, Mr Watson, who was elected to the committee in a ballot of Labour MPs, wrote on Twitter: "To be clear: I don't hold a front bench policy brief so remain on DCMS select committee. The Tories can say all they like. I'm not budging."
He referred to Michael Fallon, the Conservative Party deputy chairman who also sits on the Treasury select committee.
"No doubt the Tories will comment on his role," he wrote.
Mr Miliband defended Mr Watson's decision to stay on.
"I think Tom Watson is somebody who has provided a service to the country with what he has done on phone hacking," he said.
"I think it would have been wrong at the time of getting him to serve our party to take him away from also serving our country."