Childcare support 'extended to 80,000 more families'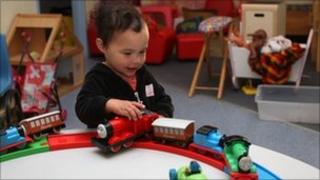 Parents on low incomes who are working less than 16 hours a week will be eligible for childcare support from 2013, under new government plans.
Some £300m has been allocated for the move, worth up to £175 a week for one child and £300 for two or more.
Ministers say scrapping the minimum working hours limit for childcare support will benefit 80,000 families.
Charities welcomed the proposals but urged ministers to do more to make childcare affordable.
'First steps'
At present, families can get credits to cover up to 70% of their weekly childcare costs, but only if they work more than 16 hours a week. The exact amount given depends on income level, but couples with an income up to £41,000 can qualify.
Work and Pensions Secretary Iain Duncan Smith said current arrangements were "complex" and did not help women who wanted to return to the workplace but were limited in the hours they could put in.
"The childcare support will be a huge bonus to them," he told the BBC News Channel.
"This is an additional group of people who will receive childcare and who did not get childcare under the last government's plans."
According to ministers, the initiative will provide an average of about 40 hours a week of childcare for up to 80,000 families.
It will come into force in 2013 to coincide with the introduction of the universal credit - a single payment consolidating existing in-work and out-of-work benefits such as child tax credit, working tax credit and jobseeker's allowance.
Mr Duncan Smith said this would incentivise many more women to return to work by enabling them to keep more of their income.
"The truth is that there are many, many more out there who don't work at all because they can't make ends meet at the level," he added.
"The way the universal credit is structured will benefit them enormously and we expect many more people, particularly women, to be able to work lower hours and therefore come back into the workforce."
'Parent penalty'
For Labour, shadow work and pensions secretary Liam Byrne said the government had already reduced childcare support from 80% to 70% of weekly costs as part of a general squeeze on benefits.
"Today's announcement is frankly smoke and mirrors," he said.
"It won't mean a penny more help for parents already struggling on childcare tax credits. Universal credit is now set to lock in a 'parents' penalty' that cuts back childcare payments so hard that many parents will be forced to give up work.
"With parents struggling to make ends meet, it beggars belief that the Tories are stopping parents working the hours and shifts they need by taking away their childcare."
'Welcomed'
Campaign groups said the government had listened to the concerns of women struggling with rising childcare costs.
"Adequate help with childcare is fundamental to the success of the government's welfare reforms," said Anand Shukla, chief executive of the Daycare Trust, which has published research suggesting childcare costs had forced many women to turn down work and had left others in debt.
"Ministers' willingness to change their proposals in the face of strong evidence is to be welcomed," she added.
But organisations such as Save The Children and the Child Poverty Action Group called for "further incentives" to encourage people into work and for a return to the 80% coverage of childcare costs "as soon as possible".