Tory conference: Party member views on an EU referendum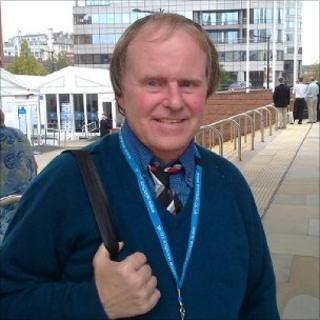 If you could grant Conservative Party members one wish what would it be?
A working majority of their own might come pretty high up the list, but at the party's annual conference in Manchester one subject tends to crop up in conversation more than most: Europe.
David Cameron promised a referendum before any more powers were transferred to Europe - but he is distinctly sniffy about the prospect of a public vote on any treaty changes that might result from the eurozone crisis.
And he has ruled out an in/out referendum, ensuring that any debate by MPs on that issue, which could take place later this year, will largely be an academic exercise.
It's not that Tory party members are all dyed-in-the-wool eurosceptics, just that many of them feel the party is missing a trick by appearing to deny the the public a vote - any kind of vote - on such a crucial issue.
'Keep our sovereignty'
"I come from a Labour background," said Terence Docherty, a Tory activist from Sunderland.
"I've heard lots of people from similar backgrounds in the North East say that, if it meant they were given a referendum on the EU, they would come out and vote Tory.
"I was standing in a charity shop recently. There were these two blokes who said, if there was a referendum, they would vote Tory. It's an issue a lot of people care about."
Whether or not the demand for a referendum is widely shared among charity shop staff and workers, it certainly seems popular among Tory delegates.
Ruth Glover, from Oldham, suggests that recent events - the efforts to save the Greek and Irish economies, in particular - have sharpened a sense that the UK's relations with the EU need to change.
"I'm glad we aren't in the euro, at least," she said. "But I don't want the country to be dragged into bailing out other European economies either.
"I don't think we necessarily need to come out of the EU, but we need to keep our sovereignty. There should be a referendum on it."
Petition pressure
Ms Glover, rather like Mr Cameron and Mr Hague, said she was not enamoured with Brussels in general but would ,"on balance, probably be in favour of staying in".
The Commons debate on an EU referendum, likely to be held before Christmas, comes after Tory MP David Nuttall handed in a paper petition demanding one.
Established by the independent MEP Nikki Sinclaire, the document attracted more than 100,000 signatures.
This is the level of support needed for an online "e-petition" - an initiative set up by the government - to prompt a full Commons debate.
Therefore, argues Mr Nuttall, it deserves equal billing.
Natascha Engel, the Labour MP who heads the committee deciding such matters, says a debate should take place.
But Richard Hyslop, a Conservative Party member from Windsor, Berkshire, is sceptical, given his leadership's position, about what can be achieved.
Lib Dem pledge
"If there's a debate by MPs and they vote for a referendum, but the government decides not to hold one, then what's the point of having the debate in the first place?" he said.
"I don't know what the outcome would be if there was a referendum, but I don't see what the prime minister has to fear.
"It was a Lib Dem election pledge [to hold a referendum on EU membership], so it shouldn't alienate our coalition partners. But I guess their opinions have changed since they entered power - they've gone back on the pledge.
"People are looking to David Cameron to act. An EU referendum could be a bit like the AV referendum an issue that transcends party divides.
"David Cameron and other cabinet ministers could campaign either for or against leaving the EU. People would understand that."
Mr Cameron and his colleagues will be keen to avoid the ructions over Europe which so disrupted the party in the mid-1990s.
The former Prime Minister, Ted Heath, is still reviled by many Tories for taking the UK into the European Economic Community in 1973.
A referendum, held in 1975, after Labour took power, found just over two thirds of voters in favour of staying in.
'Trembling'
That, it seemed, was that.
Labour's Tony Benn, one of the main opponents of being in the EEC, said at the time: "When the British people speak everyone, including members of Parliament, should tremble before their decision and that's certainly the spirit with which I accept the result of the referendum."
However, Jacqui Wilkinson, a Tory activist from City of Westminster, central London, thinks a bit more trembling is in order now.
"No one under the age of 40 has ever really known life without being in Europe," she said.
"The EU's sheer lack of democracy is its most striking feature. It must be the only institution in the democratic world that's run by the functionaries rather than the politicians. It's totally inappropriate.
"The UK government abides by the rules put out by Europe, whereas other governments tend to pick and choose more. We should adopt a different attitude.
"There's a real pressure growing, which should be listened to."
Whether a debate - or even a referendum - will be enough to turn the charity shop-goers of traditional Labour heartland Sunderland into card-carrying Tories is another issue altogether.