Conservative conference: Avoid petty obsessions - MP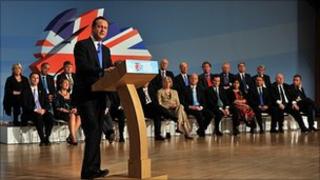 Conservatives must focus on issues that are important to the public, not "petty obsessions" at their party conference, one influential MP has warned.
Nick Boles said they must apply a "relevance test" before raising any issue at the event, starting on Sunday.
Economic turmoil and the UK's links with Europe are expected to dominate the conference in Manchester.
Any arguments over Europe must be practical in nature and not become ideological fights, Mr Boles stressed.
The Conservative leadership is expected to face demands from the right of the party to take a tougher line on issues such as Europe, immigration and social policy.
A group of Conservative MPs has called on the coalition government to re-design its relationship with Europe, in light of the eurozone debt crisis and demands for further fiscal integration, and to start reclaiming powers.
Issue test
Other MPs want to go further and hold a referendum on Britain's future membership of the EU.
Mr Boles, MP for Stamford and Grantham, and former head of the Policy Exchange think tank, said he hoped the Conservatives would avoid "noises off" during their autumn conference.
"I hope that the Conservatives will be focused on what matters to the British public - which is growth, jobs and the rising cost of fuel, not our little petty obsessions," he told the BBC.
"The most important thing is that we have to apply a test before we say anything - any of us, backbench MPs, ministers, whatever.
"The test is: 'Is this an issue for the people around Britain - people that voted for us and those that didn't - that they find crucially important in this very difficult time?'
"If it is not, let's shut up about it, if it is let's talk about it and show how we are going to deal with the issue."
'Risk of caricature'
Mr Boles said his party must remain in the centre ground and must not allow themselves to be "caricatured as old Thatcherites or old right-wingers" as they took difficult economic decisions.
On Europe, he said MPs were right to express people's concerns about excessive interference in specific areas but should avoid talk of "theoretical possibilities" when it came to the future of the EU.
"What we should not do is dwell too long on impossible questions of whether or not there will be a day when we can get out of the EU or completely renegotiate our membership.
"Let's deal with the practical stuff."
Mr Boles said a recent meeting of Tory MPs about Europe had been positive, as they had decided not to "obsess about the stuff that perhaps, in the past, some of the Eurosceptics have been going on about".
Mr Cameron, who describes himself as a "practical Eurosceptic" has said his focus is on working within the existing treaty arrangements to get more of the EU and assert the UK's national interest.
But he has said he could push for a renegotiation of existing EU rules on employment and financial regulation at an appropriate time in the future.
The BBC's deputy political editor James Landale said the prime minister faced a tricky task over the four-day conference to allay the concerns of those on the right who believed too much ground has been conceded to their Lib Dem coalition partners.
He expected a flurry of announcements to show the government was not solely focused on cutting the deficit and had a full agenda in other areas.
In recent days, Conservative ministers have announced a review of the 70mph speed limit on motorways and said £250m will be made available to help councils in England retain or restore weekly bin collections.