80mph motorway speed limit plan criticised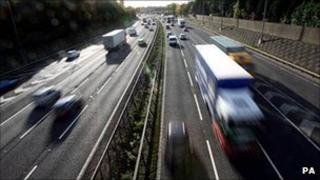 Climate change and road safety campaigners have criticised plans to increase the speed limit on English and Welsh motorways from 70mph to 80mph.
Transport Secretary Philip Hammond said the current limit, introduced in 1965, was out of date due to "huge advances in safety and motoring technology".
But the Green Party said the plan would increase carbon emissions.
Stephen Joseph, from the Campaign for Better Transport, said it would lead to more accidents and casualties.
He said in practice if you increase the limit to 80 then most people will drive at 90.
The consultation begins this year with a view to raising the limit in 2013.
Road safety charity Brake's chief executive Mary Williams said: "This is a selfish move that will achieve nothing other than carnage and is pandering to an uninformed few.
"What is far more legitimate is the grief of families bereaved on Britain's motorways in horrendous pile-ups at high speed, and the rights of all UK citizens to have slower, not faster, speeds on roads to enable drivers to avoid collisions."
She pointed to evidence that raising the limit would lead to more deaths.
The Department for Transport says advances in technology have made cars much safer, contributing to a drop of more than 75% in the number of people killed on British roads since the 70mph limit was introduced.
As a result, it says it is time to look again at whether the current limit is "still appropriate".
A Scottish Government spokesperson said of the proposal covering England and Wales: "We will consider the implications for Scotland.
"The current UK Government Scotland Bill would devolve responsibility to set some aspects of speed limits - including motorways - probably some time next year."
Green Party spokesperson Jenny Jones said: "This is a mad idea just at the time we should be worrying about fuel economy and emissions. Putting the speed limit up will be worse for both. So much for the 'greenest government ever'."
The Green Party's chief scientist said there was a 20% increase in fuel consumption and emissions between driving at 70 and 80.
Brian Mooney, of the Association of British Drivers, said: "If you are able to do an extra 10 miles an hour it might mean a faster journey time and less accidents due to tiredness as well."
But Mr Joseph said: "The evidence is that it will lead to more bunching on motorways and more stop-start driving and that people get to your destination faster if you drive steadily and slower."
The 70mph speed limit was introduced temporarily in 1965 after a series of accidents in fog and two years later it was made permanent by then Transport Secretary Barbara Castle.