Labour conference: Did Ed get it right in Liverpool?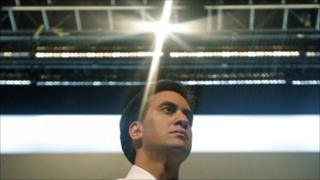 Few really knew who Ed Miliband was a year ago. As Labour heads home from its annual conference in Liverpool, are they any the wiser now?
Here are some of the highlights, and low moments, of Mr Miliband's second conference as party leader.
He has a dream
The Labour leader used his big speech to set out his personal philosophy, his vision for Britain. It was heady stuff. He was declaring nothing less than the end of 30 years of unrestrained free market capitalism. The end of the Blair/Thatcher era. Whether it will prove to be the beginning of the Miliband era remains to be seen. The trade unionists loved it (except the part where he praised Margaret Thatcher's union reforms). The Blairites were not so happy. Their man was even booed when Ed mentioned him in his speech - unthinkable a couple of years ago.
Strictly business
So Labour hates business now, right? No, just bad businesses. That was gist of every broadcast interview after Ed's speech, as shadow ministers attempted to articulate Ed's distinction between "predators" and "contributors". Shadow business secretary John Denham's admission that not a single member of the shadow cabinet had ever run a business hung heavy in the air. The argument Mr Miliband was making in his speech is far from over.
The other Ed
Not Izzard (who was everywhere you looked this week and confirmed, to no one's surprise, that he wants to be a Labour MP) - but Balls, The shadow chancellor was on the front foot in Liverpool. He came perilously close to saying "I told you so" over the state of the economy in his big speech. He also predicted, at a fringe meeting, that the coalition would definitely change course. Add to this his announcement that Labour would not reverse all coalition spending cuts and his five point growth plan (not to mention his "squeezed middle" on proud display in his football kit) and it was a busy week.
Brother bother
David put in an appearance at a fringe meeting on Sunday - but although he still has his fans, he did not really upstage Ed. The other brothers in the Labour leader's life proved more troublesome. He got a tongue-lashing from Dave Prentis, of Unison, on the platform over his reluctance to get behind strike action - but emotions on the fringe were running even higher. The unions are clearly digging in for a long and bitter fight with the government over spending cuts. It will not be a time for the faint-hearted, their leaders warned. Or Labour leaders who sit on the fence.
Regrets, they have a few
Shadow ministers spent a lot of time apologising this week. Or listing things they should have done when they were in government. They even got a telling off from Lord Prescott on Newsnight for being too negative about Labour's record. The party is clearly still deep in "truth and reconciliation" mode. It has to earn back the public's trust, said Mr Miliband in his speech. To do that properly, it will need some policies.
Policies, they have fewer
It was a minor miracle that they made it through an entire conference without unveiling a single, fully costed manifesto commitment. It is always the same for opposition parties this far out from an election but it does not make life any easier for shadow ministers trying to make an impression on a jaded electorate. When Liam Byrne finally concludes his policy review in a year's time it had better be good, old party hands could be heard muttering.
Go back to your constituencies...
Shadow ministers and former cabinet members readily admitted this week that Labour still has a long way to go before they are electable again. Can they chalk up this conference as a small step in that direction? Perhaps, but they know it is not over yet.