'Normal people' visit planet conference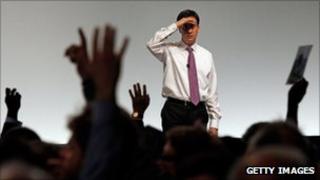 A new feature at Labour's conference this year is an open day for members of the public. The hope is that it'll get more "normal people" - keep an eye on that phrase, we'll come back to it - interested in politics, and Labour specifically.
Those taking part in the open day had the chance to join in "policy workshops" with members of the shadow cabinet. They also got the chance to be in the audience for a Q&A with Ed Miliband himself.
Another part of the day was a "Young British Talent Showcase" - an X-Factor-cum-Dragon's Den event for 16 to 23-year-olds - hosted by comedian and would-be Labour MP Eddie Izzard.
Sketch-writers' gold dust, you'll agree, but unfortunately the powers that be in the Labour regime wouldn't let members of the media in to watch.
No chance of seeing normal people there then.
Rush for seats
Anyway, back to one of those policy workshops.
The theme is "rights and responsibilities". The rights in this case include free tea and cupcakes.
There's certainly a lot of enthusiasm, so much so that bums hit seats before conference staff setting out chairs can get all four legs on the floor.
Hilary Benn - shadow leader of the Commons - is first there and takes charge of the mic, shaking hands with everyone in typically Tigger-ish fashion.
"What's your name and where've you come from?" he asks, just like local heroine Cilla Black used to, on Blind Date.
The audience is a good mix of men and women, skewed towards the middle-aged and older but with young faces too, particularly among those asking questions.
The party claims about 2,000 people have taken advantage of the open day - some have responded to an ad on the Labour party website, but others have been invited by letter. Some are Labour supporters, some not.
Due to the tight security around conferences it is not possible to just wander in off the streets. You have to be cleared by the local police force.
Most of the people here are delegates, representing their local constituency Labour Party, trade unionists, lobbyists, politicians and journalists.
They might think they are perfectly normal - but it is only when real people intrude into the bubble you realise that they really aren't.
'Doing drugs...'
Back in the Hilary Benn seminar, Mamoona, from Bradford, is talking about how unhappy she is with her "inept council".
Johannes, from London, says he's got "no idea what my rights are... or my responsibilities for that matter". He suggests teenagers should be taught both at school.
Jim, from Leeds, almost elicits a news line when he says the war on drugs has been lost and it's time for wholesale legalisation.
In reply, shadow police minister Vernon Coaker says: "I used to do drugs... education in schools," but the overlong gap between those words prompts a ripple of nervous laughter.
He spots his own near miss, saying: "There was a bit of a pause there, wasn't there... that's the end of my career."
Those on the open day are given a taste of conference life (if you've never been to a party conference it can be quite a strange experience, detached from everyday reality inside a secure compound).
It is though, only a taste - they're not allowed in the main conference hall to hear any of the speeches - they haven't paid their subs, you see.
They are, however, allowed to take a seat in the hall for the Ed and Eddie show. (Izzard compered the long-awaited Q&A.)
This is where the "normal people" get their chance to shine. Possibly.
Walk-out
The hall is half empty. - Where are the 2,000 people we were promised?
But Mr Miliband seems up for it. He has taken many a soft question from a hand-picked party stooge in his time, you suspect, and he seems desperate for a proper duffing up. He keeps begging the crowd for "harder questions".
He finally gets his wish when a man from Oxford asks about protecting pensions - and promptly walks out when he doesn't get the answer he wants.
"He clearly doesn't agree with me," says the Labour leader, without missing a beat.
He does miss a beat when local woman Margaret Prichard asks about the potential privatisation of a new hospital.
"The Germans are sniffing around," says Mrs Pritchard, "Please Ed, don't let the Germans take over our hospitals like they have done with the trains!"
Another audience member asks when he is going to bring brother David back from "political Siberia".
David is welcome back any time he wants, apparently.
The Labour leader takes questions for nearly an hour and a half - exhausting the patience of many hacks watching from the cheap seats - but he is given a standing ovation by the audience.
So what did the "normal people" make of their day on planet conference?
Mixed feelings
Roz Hughes, an unemployed nurse, said: "I went to a Royal College of Nursing event but it was just a discussion. I'm unemployed - I don't want discussion, I want some answers. I also thought there'd be more of a range of exhibitors, more international charities for example."
It turns out Roz is a party member already - although she is a conference virgin. She says she joined the party before the general election because she wanted to do anything possible to keep Gordon Brown in power.
Mike Abrams, another party member - ergo not really "normal" either - says he thinks MPs are too "hermetically sealed from the people they represent" and thinks open days and Q&As should be a regular thing.
Harry Marshall - "I've been coming to conferences for 30 years" - likes the more informal atmosphere, he feels it's less intimidating to ask questions in the workshop environment rather than in the main hall in front of so many people.
Dawn Kay, party member, was invited because she's been happy to give them feedback, good and bad, in various email exchanges.
Eventually, a non-member, a genuine newbie, is found - but Judi Collister is a politics student and uses the phrase "Tory-led government" so semi-normal might be closer to the truth.
Strange as it may seem, opening up conference to "normal people" is quite a big deal for the Labour Party and not universally popular with the membership, who see conference as the one chance they get to put questions directly to the party leadership.
But Mr Miliband is determined to make it work. And, on the strength of his first outing, he might just manage it.
Whether the "normal" people will want to come back is another question of course.