Labour conference: Miliband war on 'fast buck' society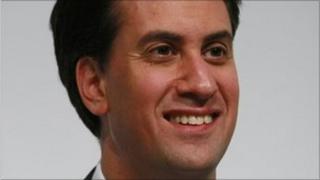 Ed Miliband has declared war on "predatory, asset-stripping" companies, in his speech to the Labour conference.
The Labour leader said he wanted the UK to become a country where responsible "grafters" were rewarded.
And he called for an end to the "fast buck" culture he claimed had created a "quiet crisis" in the UK.
It was Mr Miliband's biggest speech since becoming Labour leader just over a year ago.
And although it contained no new policy announcements, he will be hoping to seize back the political initiative amid falling opinion poll ratings.
'Lost trust'
Mr Miliband began by saying the government's "austerity plan" was failing and people needed to know there was a credible alternative.
But he said Labour had "lost trust on the economy" - and he was determined to restore it, by saying the next Labour government would "only spend what it can afford" and manage public money properly.
"If this government fails to deal with the deficit in this parliament we will deal with it in the next," he said, promising "disciplined" new fiscal rules.
The Labour leader urged David Cameron to "put the politics aside" and understand that protecting the UK economy matters more than protecting "a plan that has failed".
Delegates cheered as the Labour leader said he wanted to regain the trust of the British people and win the next general election.
Among the ideas Mr Miliband talked about were tax incentives for companies that make a contribution to the economy through training and long-term investment.
He drew a distinction between genuine wealth creators like Rolls Royce - which, he said, should be championed and encouraged - and "asset-stripping predators" such as Southern Cross care homes.
He also floated the idea - already being piloted by two Labour councils, Manchester and Newham in London - that people who make a contribution to the local community will be allowed to jump housing queues.
Mr Miliband argued for a "something-for-something" culture in schools and call for a new effort to get children from poor backgrounds to university.
The Labour leader has been criticised this week by union leaders who are angry at his failure to back their planned "day of action" on 30 November over cuts to their members' pensions.
He has also faced criticism from some of his own MPs, including ex-minister Tessa Jowell, that voters are not listening to the party.
A ComRes poll in the Independent on Tuesday showed 37% of the 1,000 voters questioned said they backed the Conservatives, against 36% for Labour and 12% for the Liberal Democrats.
Just 24% agreed that Mr Miliband was a credible prime minister-in-waiting, against 57% who said he was not.
Fred Goodwin
But Mr Miliband said he believed that, in the wake of the banking crisis and the summer riots, voters were crying out for a new kind of society in which the responsible and the "grafters" - those who work hard - were properly rewarded.
He talked in his speech of a "quiet crisis" in Britain and the "failure of a system" which too often rewarded "not the right people with the right values, but the wrong people with the wrong values".
He singled out former RBS boss Sir Fred Goodwin, telling delegates he should never have got a salary three times that of former Rolls Royce boss Sir John Rose, and adding: "We shouldn't have given Sir Fred Goodwin that knighthood either."
He said he wanted to see a "something-for-something" culture, where reward was linked to effort and told delegates that the current benefits system did not reward those who shared those values.
"We must never excuse people who cheat the welfare system. The reason I talk about this is not because I don't believe in a welfare state but because I do. We can never protect and renew it if people believe it's just not fair."
He called for a "new bargain" based on British values and a "new era of wealth creation in this country".
However, Conservative Party co-chairwoman Baroness Warsi blamed Labour's 13 years in office for "the 'something-for-nothing' culture.
"If Ed Miliband was serious about turning that around, he wouldn't be opposing our reforms to the welfare system to make work pay," she said.
She argued that, under the previous Labour government, small businesses had been "strangled" with red tape and social mobility had stalled, and accused Mr Miliband of opposing government plans to address the problems.
"Ed Miliband can't deliver on these promises because his party left the country on the brink of bankruptcy. This is opportunistic rhetoric from a weak leader."