Labour conference: Jack Dromey says UK nuclear 'safe'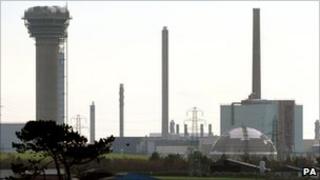 Shadow minister Jack Dromey has hailed UK nuclear power as a "sunrise industry" and dismissed safety fears.
"The possibility of a Fukushima-type accident in Britain is as remote as me getting hit by a meteor," he told a Labour conference fringe meeting.
The MP urged ministers to ensure British firms benefited from plans to build a new generation of reactors.
But anti-nuclear campaigners said the industry was guilty of "false promises" on cost and safety.
Only one British company, Centrica, is left in the running to build new nuclear power plants in the UK, with the bidding process expected to be dominated by American and French companies.
Mr Dromey said it was "not possible" for ministers to mount a "Buy British" campaign as that was not how the industry worked, but he urged them to adopt "an approach which maximises benefit for the British industrial base".
And the former deputy leader of the Transport and General Workers union dismissed safety concerns in the wake of the Fukushima disaster in Japan.
"My very strong view remains that the nuclear industry now is most definitely a sunrise and not a sunset industry," he told the Nuclear Industry Association meeting in Liverpool.
"In Britain, we cleaned up our act and put behind us the sorry sagas of the 1960s, 70s and 80s that gave rise to legitimate public concern."
He said he had been an "outspoken critic" of the industry, but added: "I can put my hand on my heart and say this is an industry that has both cleaned up its act and now has world class standards of safety, higher than any other industry in Britain.
"Also the possibility of a Fukushima type accident in Britain I think is as remote as me getting hit by a meteor."
Party politics
Global warming, security of supply and soaring energy prices meant nuclear had to be seen as part of Britain's future, in partnership with renewables, and investment was needed in both, said Mr Dromey.
He said Labour would never play party politics with the nuclear issue, and there was a genuine cross-party agreement that new reactors were needed.
In March 2011, a powerful earthquake and tsunami destroyed the cooling systems at the Fukushima nuclear plant in Japan.
There were large radiation leaks and 80,000 people were evacuated from a 20km zone around the facility.
The incident sparked a huge debate worldwide on the future of nuclear power, with the German government deciding to close all their remaining nuclear power stations by 2022.
The UK government is still committed to replacing Britain's ageing nuclear reactors, but insists the costs must be met by industry.
Andy Rowell, of the Nuclear SpinWatch website, said: "For the last few years, the nuclear industry has tried to persuade the British public that it is green, safe and cost-effective, but each one is a false promise. Fukushima once again showed us the dangers of nuclear power.
"It will make only a minimal contribution to tackling climate change, and money could be much more effectively spent on other carbon abatement projects like energy efficiency."