John Prescott calls for Labour shadow cabinet reshuffle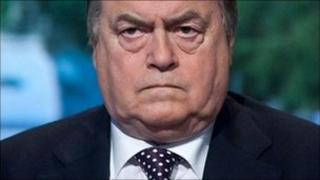 Former Deputy Prime Minister John Prescott has urged Ed Miliband to use new rules to change his shadow cabinet.
Delegates at Labour's conference have voted to allow party leaders to choose their own cabinet when in opposition, rather than have MPs elect it.
"There are some people in there who are undoubtedly not carrying their weight," Lord Prescott told the Today programme.
For the first time in 40 years, the Labour peer is not attending this week's party conference in Liverpool.
Lord Prescott stepped down as an MP at the general election in 2010 and failed in his bid to become Labour Party Treasurer at last year's conference.
He told Today some shadow cabinet members were not even campaigning.
"This is a Tory government that's doing some outrageous things and we haven't had many words of protest. Ed, you're the leader, get a shadow cabinet who'll do that."
'Keep traditional values'
Lord Prescott also urged Mr Miliband and his colleagues to stop apologising for Labour's record.
"They all seem to accept that the 13 years of Labour was a failure despite the record levels of employment, record of investment in housing, minimum wage, SureStart and all that," he said.
"I say stop apologising for that, stop complaining and get out campaigning."
Describing Mr Miliband as a "man with a good heart", the Labour peer warned him to keep to the party's traditional values.
"I've been 50 years in the Labour Party, I've listened to the debates between the left and right and it's always vigorous," he said.
"Then it became old and New Labour, now we've got this kind of rainbow politics - this kind of movement from red Labour to blue Labour to purple Labour.
"Keep traditional values in a modern setting."
The Labour Party conference is being held at Liverpool's Arena and Convention Centre and is scheduled to run until Thursday.