Labour conference: David Miliband back in spotlight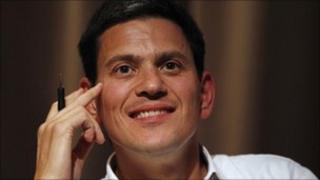 Can it really be a year since Ed Miliband pipped older brother David to the Labour leadership? As the party's annual conference gets under way in Liverpool, we watch David address delegates and ask if the right brother got the job.
"I am just a little bit in love with David Miliband. Don't tell my husband though!"
Veronica Soliba is showing off her new Facebook profile picture, featuring a grinning David Miliband with his arm around her.
She is excited because she has just watched her political hero address a packed fringe meeting at the Labour Party conference.
The all-ticket affair is the former foreign secretary's one-and-only appearance in Liverpool. By the time Ed addresses the party faithful on Tuesday, the elder Miliband brother will be in the US.
David says he does not want to deflect attention from his younger brother, and insists, in a BBC interview, that rumours of a rift between the two are "hooey and nonsense".
The message does not appear to have got through to Veronica, however, who tells me she thinks it is high time the two rival camps stopped fighting and started working together for the sake of the party.
"I hope I don't get into trouble for saying that," she adds.
Tieless and lean
Not everyone at the meeting is as big a fan as Veronica. Linda Wooding, a member of the party's National Policy Forum, says she voted for David in the leadership election but now backs Ed (his response to the phone hacking scandal was the turning point, apparently).
But there is more than a hint of David mania outside the venue. Party members and hacks jostle for position, as Miliband, tieless and lean, in a crisp white shirt, sweeps in, trailed by a TV crew.
Officially, he is here to promote Movement for Change - a new campaign to recruit 10,000 "community organisers" to the Labour Party's cause based around Barack Obama's election-winning effort.
But the media pack have not queued up for half an hour to hear a debate about the reorganisation of the Labour Party. They want the thoughts of the Miliband many had long thought would be the man to succeed Gordon Brown.
So does the audience, who whoop and cheer as the South Shields MP is introduced.
"It feels like the X Factor panel," jokes fellow speaker Labour MP Stella Creasey, adding: "I hope I'm not the Louis".
'Do it yourself'
Mr Miliband is clearly enjoying being back in the limelight, but he dutifully answers the audience's questions on the value of community organisers before delivering a 20 minute speech on his vision for Labour's future.
There are no digs at Ed - subtle or otherwise - but there a few hints at the sort of speech he might have given this week if things had turned out differently last year.
He speaks of the difference between the Conservatives, who he says believe in a "do it yourself Britain" and Labour, which believes in a "do it together" Britain.
But, he adds, "we often fall into the trap of looking like we believe in 'we'll do it for you Britain' - we, the politicians, the state 'will do it for you'.
"And I think in our latter years in government, the balance between rights and responsibilities, between popular action, got out of kilter.
"That's why there was the space created for the Tories to move in, as the party of the Big Society."
He also launches an impassioned attack on the "shocking" actions of the coalition government on tuition fees, the economy and range of other subjects.
And he calls on Labour to rediscover its roots as a party of the people, to deal with what he describes as the demands of a far from "normal" political times.
"We're all here because we want to put Ed into Downing Street, we want to put Labour into government. We want to put the country on the right track.
"What I have said tonight is that if we are going to do that, we have to understand our country better.
"We have got to broaden our family so that we represent the country better and we are going to have to govern the country in a different way."
It would be misleading to suggest that there is widespread unhappiness in Liverpool with Ed Miliband's leadership - or that conference delegates wish David was their leader instead.
Most seem to want to see David back in frontline politics though. And some of his supporters still hanker after the "star quality" they believe he brought to the party, even as they throw their weight behind Ed.
"We have the leader we have and we will work with him," says Sally Mulready, a Labour councillor from Hackney.
"We are very united. Everybody said there would be a schism last year, that the party would tear itself asunder and it didn't."