Labour Party gearing up for annual conference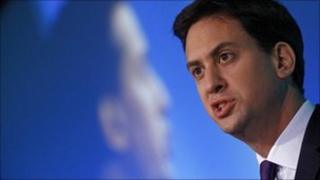 Labour politicians and members are making their way to Liverpool for the party's annual conference.
More than 11,000 delegates are expected to attend the five-day event, which will include speeches by leader Ed Miliband and other senior figures.
It takes place amid global financial turmoil - and calls for ministers to come up with an economic "Plan B" are likely to feature prominently.
Delegates will also vote on plans to change way the party leader is elected.
The BBC's deputy political editor, James Landale, said Mr Miliband needed to use the annual conference - which officially gets under way on Sunday - to show his party was relevant to ordinary people in Britain.
Our correspondent said he would talk a lot about what he called the "squeezed middle", the low and middle-income families feeling the pain of lower living standards and job insecurity as the economy stagnates.
'Supporter status'
On Friday, Mr Miliband criticised Prime Minister David Cameron for "lecturing" eurozone leaders to take action on their debts, while failing to offer any kind of credible growth plan to tackle the economic problems at home and abroad.
He said trying to "export" a policy based on austerity alone was "not a solution to the crisis the world faces".
Shares have tumbled around the world in recent days amid gloomy predictions from the World Bank, International Monetary Fund and US Federal Reserve.
Delegates at the conference will also vote on a series of proposals put forward by Mr Miliband which he says could help revitalise the party.
At present, only MPs, MEPs, party members and members of affiliated groups such as unions, can vote in leadership elections - although anyone who falls into more than one of those categories is allowed to vote several times.
Mr Miliband wants members of the public who support Labour's principles but do not want to become fully-fledged party members to be able to get "supporter" status, which would then give them a vote too.
He also wants the end the system of multiple votes.
The plan has met with opposition from some in the Labour movement, particularly unions, who see it as an attempt to dilute their influence.