Pensions: Local Government Group reveals new plan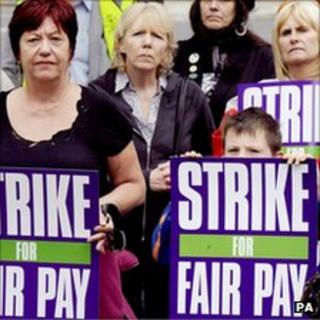 The government could save £900m a year from public sector pensions without raising workers' contributions for two years, a lobbying group has argued.
The Local Government Group has written to the Communities Secretary Eric Pickles with its suggestions, which he says he is "considering carefully".
It says employees could either pay more in - starting in two years' time - to keep their benefits, or pay what they do now and get less when they retire.
But unions have dismissed the plan.
Public sector trade unions have already said they will go ahead with ballots for mass strike action on 30 November over pensions, after talks with ministers failed to reach a breakthrough.
But that was on the basis that millions of workers would have to pay more from next April while they were still experiencing a pay freeze.
'Careful consideration'
The latest proposal, which could affect two million workers, claims to bring the £900m in savings the government is looking to make by 2014-15 without employees opting out of the pension scheme.
In the letter the group states that its proposal "delivers the required level of savings, other than wholly through an increase in employee contributions, minimises the impact on the lower-paid and offers choice to individuals".
The proposals include an increase in the normal pension age from 65 to 66 from April 2014 which, the group claims, would save £300m a year. The remaining £600m comes from an increase in contribution rates with protection for the lower-paid, it says.
But for employees who were not willing or able to contribute more, there would be the option of accepting a reduction in their pension benefits.
No employee would face a rise in contributions for at least two years.
The Department for Communities and Local Government now has to decide whether to adopt the latest proposal or launch its own proposals for pension changes at the end of the month.
'Short-term tax'
A spokesman said these suggestions were a valid contribution to solving the public pension problem.
"This is a genuine consultation to which we are committed in order to try and agree a way forward with the unions and employers," he said.
"Public service pensions will still be among the very best, with a guaranteed pension, but we must ensure that they remain affordable in the future and deliver better value for the taxpayer."
In a statement, Unison said it could not "sign up to these plans, which are proposed to raise nothing more than a £900m 'tax' on local government pension scheme members for the government in the short term".
The GMB said there were "significant problems" with the proposals and that the government did not look set to change its "hardline stance".
On Thursday, a TUC-led delegation met Chief Secretary to the Treasury Danny Alexander and Cabinet Office minister Francis Maude in the latest round of talks on pensions, but no agreement was reached.
TUC general secretary Brendan Barber told the BBC there had been no "dramatic change", with the two sides still "a long way apart", but promised there would be further talks.
"Unions will continue to step up their efforts with the ballots of their members and planning of industrial action," he added.
The Local Government Group says it works with local authorities, regional employers and other bodies to create solutions on pay, pensions and employment contracts.