Big Society doomed unless civil servants change - MPs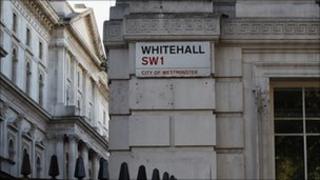 David Cameron's flagship Big Society plan will fail unless there are big changes to the way the civil service works, a group of MPs has warned.
The Public Administration Committee says the PM's hopes of decentralising power will not work without civil service backing.
It adds that ministers have "failed to recognise the scale of reform required" and think change will "just happen".
Mr Cameron wants to shrink the state and hand more control to communities.
But the job of devolving power to voluntary groups and decentralising control will fall to civil servants in Whitehall departments.
And the cross-party group of MPs is concerned they do not have the skills that will be needed.
'Difficult'
With government departments making cuts and offering staff voluntary redundancy, not enough attention has been paid to making sure people with the right skills and experience are kept on, the report says.
The MPs want to see Whitehall departments working together and are calling for a more "innovative and entrepreneurial civil service".
The committee's chairman, Conservative MP Bernard Jenkin, said that without big changes, the government's flagship policies would be left high and dry.
"There is a culture in the civil service which makes change very difficult," he said.
"Civil service reform is something ministers talk about, but which most civil servants feel does not affect them.
"They keep their heads down until the latest reform has passed over, and then carry on as before.
"With the challenges of cuts and downsizing on top of the reforms, that is simply not an option this time."
The committee calls for the Cabinet Office to take charge of Whitehall reform, saying that without a "comprehensive change programme" there would be "little of the real change which was the watchword of David Cameron's manifesto for government".