Labour considers allowing non-members to choose leader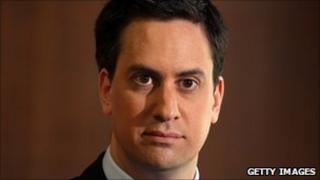 Labour's ruling National Executive Committee is meeting to discuss plans to open up the party's leadership elections to non-members.
The party also wants to scrap the system by which members can cast multiple votes in leadership contests.
The plans are part of a project by Ed Miliband - "Refounding Labour" - aimed at breathing new life into what he claims is a moribund party.
The measures will be voted on at the annual Labour conference on Sunday.
Mr Miliband has promised that the project - headed by shadow cabinet member Peter Hain - will be the greatest shake-up in the way the party is run since it was founded in 1918.
Union influence
At present, only MPs, MEPs, party members and members of an affiliated group, such as a trade union, can vote in leadership contests - although anyone who falls into more than one of those categories is allowed to vote several times.
Mr Miliband wants members of the public to be allowed to register as individual party supporters and to be given a vote as well.
He also wants them to have a formal role in policy formation and the power to address the floor at conference.
The plan has met with opposition from some in the Labour movement, who see it as an attempt to dilute influence.
But the BBC's political correspondent Ben Wright said that might be the very message the Labour leadership wanted to send given the circumstances of Mr Miliband's own election.
He won by a narrow margin thanks to support from the unions - his brother David was the clear winner among MPs and party members - and since then he has fought hard to shake off the "Red Ed" tag.
During its meeting on Tuesday, the National Executive Committee agreed to give affiliate status to Young Labour - which is made up of members aged 15 to 26 - giving them the right to participate in leadership votes.
Clause One
Political party membership has been in decline across Europe for decades and the UK now has one of the lowest rates of membership among other established democracies with 1.5% saying they belonged to a party in 2001.
The Conservatives and Lib Dems have also been experimenting with ways of boosting support by opening their doors to non-members.
These include open primaries to select candidates, similar to those used in the United States, and cut-price membership schemes.
Mr Miliband is also proposing to scrap elections to the shadow cabinet and rewrite Clause One of Labour's constitution which sets out the party's purpose.
At present, it defines its role as being "to organise and maintain in Parliament and in the country a political Labour party", but Mr Miliband says it is "silent on our desire to be a force for change in local communities".
A Labour source told the Press Association: "The aim is to show that Labour is outward-facing, talking to the public, trying to recruit members of the public, in contrast to the old image of decisions taken behind closed doors and in smoke-filled rooms.
"Ed regards it as historic."