Train firms criticise Hammond over 'rich rail' claims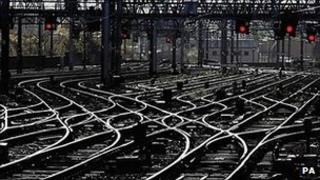 Train operators have criticised Philip Hammond, saying the transport secretary should "read his brief more closely".
Mr Hammond caused controversy last week when he suggested the railways had become a "rich man's toy".
The head of the Association of Train Operating Companies said railways were a "fantastic deal" for the taxpayer.
Transport Minister Norman Baker told a fringe meeting at the Lib Dem conference rail was more popular than ever but fare formulas should change.
Mr Baker said he had told Mr Hammond - his Conservative boss at the department - that he disagreed with the formula for calculating most regulated fares which will see them rise by inflation plus 3%.
Fare rises
With retail price inflation standing at 5%, this means that the average season ticket in England and Wales will go up by 8% in January - an increase condemned by consumer groups.
At a fringe meeting in Birmingham, Michael Roberts, the head of Atoc - which represents firms such as National Express and Virgin - was asked about comments Mr Hammond made about rail costs recently.
In response to suggestions the proposed High Speed rail link between London and Birmingham would become a "rich man's toy", Mr Hammond told MPs it was an "uncomfortable fact" that trains were already used by the better-off and some fares were "eye-wateringly expensive".
But Mr Roberts said 30% of all season ticket holders were on average incomes while pensioners, young people and members of the armed forces were all getting significant discounts.
"Philip Hammond needs to read his brief a bit more closely before making these kind of comments."
He added: "I think it (the railway) is a fantastic deal for the amount of money we put in. We need to make that deal better and get our costs down."
'Much better'
For the past few years the formula for fare increases has generally been RPI inflation plus 1%, but for the next three years it is RPI plus 3%.
Mr Baker said he had made it clear to the secretary of state that he did not support the current fare formula, which he feared may "price some people off the railways".
"I don't like fares going up. As soon as we can get off RPI plus the better."
The rises are part of the government's agenda to cut the cost to the taxpayer of the rail network.
Mr Baker said the rise had to be seen in the context of what was the biggest investment by any government in rail infrastructure for 150 years.
While the railways had got "much better" in the last ten years, he said there needed to be a debate about the cost of fares, in particular the difference in price between fares bought weeks in advance and "walk on" tickets bought on the day of travel.
The Campaign for Better Transport said January's rise was merely penalising people for going to work.
Richard Hebditch, its campaigns director, told the fringe meeting he had asked the Department of Transport to disclose how much the forthcoming fare rise would generate and how the money would be spent but that its Freedom of Information request had been declined.
Mr Baker, a high-profile FOI supporter when in opposition, said he was not aware the request had been submitted and could not see why the information should not be released.