Senior Tory urges David Cameron to hold EU referendum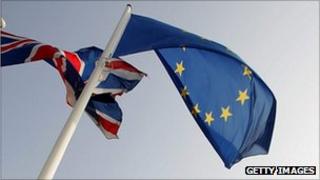 A senior Conservative MP has called on Prime Minister David Cameron to hold a referendum on Britain's membership of the European Union.
Mark Pritchard, the secretary of the 1922 committee of Tory backbenchers, said it had "enslaved" the country.
Writing in the Daily Telegraph, he said EU membership was a "burdensome yoke, disfiguring Britain's independence".
And he said voters should have a choice between political union and moving to a relationship based only on trade.
In his article, Mr Pritchard wrote: "Conservative backbenchers can no longer be taken for granted. Conservative MPs will not continue to write blank cheques for workers in Lisbon while people in London and Leicester are joining the dole queue.
"For many Britons, the EU has already become a kind of occupying force, setting unfamiliar rules, demanding levies, curbing freedoms, subverting our culture, and imposing alien taxes."
He described his proposal for a referendum on whether Britain should be part of a political union or a trade-only relationship as "a moderate proposition that would attract voters from across the political spectrum".
'Referendum lock'
His comments come amid growing frustration among Tory eurosceptics at the failure so far of the government to repatriate powers from Europe in the face of opposition from their Liberal Democrat coalition partners.
Last week 120 Conservative backbenchers gathered at a private meeting in Westminster to voice their impatience at the lack of progress on the issue.
Ministers have ruled out any imminent renegotiation of European treaties.
However, speaking at the Lib Dems annual conference, Mr Alexander, the chief secretary to the Treasury, said: "Sadly, Eurosceptics on left and right fail to understand Winston Churchill's central insight that sharing sovereignty strengthens influence and isolation weakens us.
"Scottish Nationalists make the same mistake. We will never let the anti-Europeans or nationalists frustrate our national interest. They are enemies of growth."
Last year the government introduced a "referendum lock", guaranteeing that no further major transfer of powers from London to Brussels could happen without first being approved by the public.
Mr Cameron, who describes himself as a "practical eurosceptic", has said he could push for a renegotiation of existing EU rules on employment and financial regulation at an appropriate time in the future.
The Conservatives' coalition partners, the Liberal Democrats, have traditionally been the most pro-European of the major UK political parties.
The coalition agreement drawn up after the 2010 general election states "we will ensure that the British government is a positive participant in the European Union".