Crime minister Lady Browning resigns on health grounds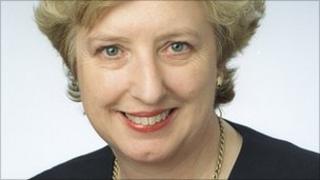 Crime Prevention Minister Baroness Browning is stepping down from the government on health grounds, Downing Street has said.
The 64-year-old Conservative peer was appointed to the post in May, replacing James Brokenshire when he became security minister.
Home Secretary Theresa May said Lady Browning had played a "vital role" in plans to reform policing.
She will be replaced by Lord Henley, who is currently recycling minister.
Lady Browning joined the government in the reshuffle that followed the resignation of Baroness Neville-Jones as security minister.
'Legal highs' work
As Angela Browning, she served as an MP from 1992 to 2010, representing Tiverton until 1997, and the then Tiverton and Honiton, following constituency boundary changes.
While a minister, she urged peers to back the government's plans for directly elected police and crime commissioners, and addressed the issue of so-called "legal highs", writing to the organisers of UK music festivals and calling on them to take action.
Mrs May thanked the baroness for her efforts, saying: "In her time at the Home Office she has taken forward work to help prevent crime and reduce anti-social behaviour in our communities and has played a vital role in taking our plans to reform policing and give greater accountability to the public through the Lords.
"I wish her the very best for the future."
Lord Taylor of Holbeach, currently a Lord in Waiting - a peer who provides a link between Parliament and the monarchy - will replace Conservative peer Lord Henley as a junior minister at the Department for Environment, Food and Rural Affairs.
Baroness Stowell of Beeston will become a Baroness in Waiting.