England riots victims' panel calls for evidence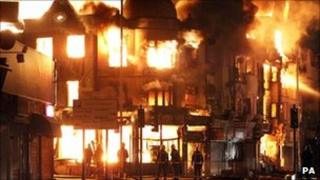 The government's panel for victims of last month's riots in several English cities has launched its appeal for evidence from those affected.
The Independent Riots Communities and Victims Panel is sending thousands of letters to areas affected.
It has launched a website and said its members will tour the areas affected to learn what people experienced.
The panel plans to produce an interim report in November and its full findings in March 2012.
Deputy Prime Minister Nick Clegg has asked the panel, which is not a full public inquiry, to examine:
Why riots broke out in some areas but not others
What motivated those who broke the law
How communities and key services like the police dealt with the trouble
The panel will also look at how communities can become more resilient to prevent the same events happening again.
The Cabinet Office is separately commissioning fuller research into the areas affected.
Darra Singh, chair of the panel, formerly led the government's integration and community cohesion review, launched in the wake of the 7/7 bombings.
"There has been no shortage of national commentary, opinion and speculation, but the people best placed to help us understand the riots are communities themselves," said Mr Singh.
He said they wanted to speak to residents, shopkeepers, parents, young people, council workers, youth leaders, faith organisations and the so-called "riot wombles", who cleared up after the disorder.
"This is a panel for the people. So today we're making a national call for evidence. We want people to write, email and talk directly to us so that everyone has the chance to have their voice heard," he added.
The panel's call for evidence comes the day after the Ministry of Justice published the most comprehensive data yet on the disturbances.
The data shows that three-quarters of those already brought before the courts have previous convictions - and a quarter of those had committed more than 10 offences.