Salmond calls for money for investment in 'Plan MacB'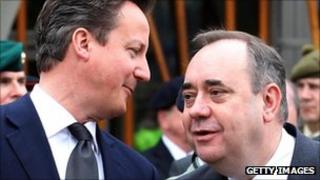 "Disappointing"
"Worse than before"
It was the day the prime minister and his deputy broke the news to the electorate - if, that is, they weren't already aware of it - that the economy is not on course. The global economic news is worse than expected a few weeks ago, unemployment is higher and growth is going to be much lower.
Adding his voice to those calling for a change of strategy is Scotland's first minister.
With unemployment falling in Scotland as it rises in the rest of the UK Alex Salmond says the Chancellor should listen to his advice and follow what he calls "Plan MacB".
The Scottish government have prioritised capital spending and want George Osborne to give them the money to invest in building more houses and a series of small road projects.
Salmond, an economist by training, argues that the markets will not take fright at an increase in investment spending designed to stimulate growth.
He also argues that his approach to cutting public spending - which includes a promise of no compulsory redundancies - has helped maintain consumer confidence. He fears that the looming confrontation over public sector pensions risks shattering that.
Downing Street insists that any plan B which involves more spending is a plan for bankruptcy.
They say that now - with the German chancellor and the French president trying to stave off a Greek default - is the worst possible time to talk of changing course.
Nevertheless, there is a desperate search behind the scenes for ways to get the economy growing again and the pressure on them is only going to mount.