Peers end deadlock over fixed term parliaments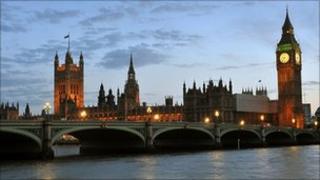 Ministers have narrowly won their parliamentary battle over plans to hold general elections every five years.
The Fixed-Term Parliaments Bill finally cleared the House of Lords when peers, who had twice blocked the plan, accepted a compromise proposal.
They wanted the law to be renewed after each election but ministers said that meant allowing fixed terms to be switched on "like a light switch".
Peers voted by 188 to 173 to accept a plan for a review in 2020.
Parliaments are currently limited to a maximum of five years, but the prime minister is free to call a general election at any time.
The government has argued that fixed terms would eliminate the power of the executive to call elections when it was politically convenient - but their choice of a five-year, rather than a four-year term has attracted some criticism.
And some peers had argued that the coalition did not have a mandate to "bind" future parliaments.
They put forward plans that would in effect have required each new parliament to decide whether it wanted a fixed term.
Peers had twice backed a "sunset" provision that would have given both the Commons and the Lords the chance to choose whether to renew the legislation after each general election.
Crossbench peer Lord Butler urged peers to stand firm and said the government's offer, to set up a review in 2020, was an "insult". And fellow crossbencher Lord Pannick said: "The proposal is not so much kicking the issue into the long grass as burying it in a time capsule."
But peers voted, by a majority of just 15, to back the government.
Advocate General Lord Wallace said any future government could choose to repeal the fixed-term legislation - but that would be the "subject of full parliamentary scrutiny as this Bill has been".
"By contrast the sunset amendments would switch fixed terms on and off like a light switch. Parliaments would default to non-fixed terms if a simple resolution fails to be tabled or if the two houses cannot agree on the matter."
The bill will now be sent for Royal Assent.
Under the bill an election could still be triggered before the end of a five-year term if a motion of no confidence was passed in the government and no alternative administration could be formed, or if at least two-thirds of MPs approved calls for an early election.