TUC to attack ministers over public sector pensions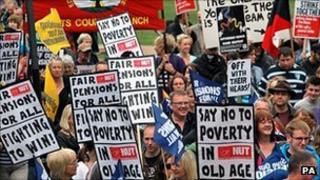 Trade unions will debate controversial plans to change public sector pensions on the final day of the TUC conference.
The BBC understands that the unions have drawn up plans for several one-day strikes over the issue, involving millions of workers.
Union members are expected to attack the government during Wednesday's debate in London.
Minister Francis Maude said the public would be "mightily fed up" with any "unnecessary strike action".
The three-day TUC event at Congress House has already seen Labour leader Ed Miliband heckled for saying that a strike over pensions by four unions in June was "a mistake".
'Sustainable' pensions
At the time three of the biggest unions, Unite, Unison and the GMB did not take part but they are expected to announce plans to ballot their members on industrial action imminently.
BBC employment correspondent John Moylan says unions are planning a series of one-day national strikes which could start in late November.
The government and unions are in talks over changes to public sector pensions, following a report by the former Labour cabinet minister Lord Hutton.
Ministers have said they will become unaffordable for the taxpayer without reform as people are living longer and point out the cost has already gone up by a third.
The government says long-term reform is needed and pension contributions need to rise if the system is to be "sustainable" and "fair".
But the unions point to Lord Hutton's report which also says changes already made mean payments are predicted to fall as a percentage of GDP over time.
'Very hard time'
Some argue that the government has not made any meaningful concessions and say the changes will mean people working longer, paying more and getting less.
Cabinet Office minister Francis Maude, who is leading the pension negotiations for the government, said on Tuesday that was "not true" and "in most cases" pensions would be better than "what they have at the moment".
He said he doubted there was an appetite among union members for prolonged industrial action and added: "We don't want strikes and the public will be very fed up if there are widespread strikes which close schools and affect health services and transport.
"People who are struggling to pay their bills and paying more towards public sector pensions in many cases than they are paying towards their own pensions will be mightily fed up if there is unnecessary strike action."
But Mark Serwotka, leader of the Public and Commercial Services Union, told the BBC: "People are having a very, very hard time. You know, they see bankers still doing very, very nicely.
"They see people still avoiding tax, when they're billionaires and yet low paid public sector workers face inflation of 5% yet a freeze in their pay, raids on their pensions and people are angry about it."