Were the boos all bad for Miliband?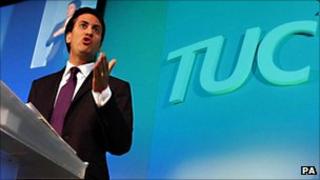 Weren't they supposed to be friends?
Ed Miliband, the brother who won the Labour leadership with the help of the "brothers" in the trade union movement, was back for his first big speech to the TUC.
The Tory-bashing and banker-berating went down well, as it always does at such occasions.
Praise for the efforts of unions to protect dinner ladies and car workers also won approval.
But, not for the first time, Mr Miliband tested fraternal bonds to the limit when he dared to criticise his audience.
He drew howls of "shame" when he called the summer's strikes over increased public sector pension contributions a "mistake".
He promised to push the government to ensure "meaningful negotiation to prevent further confrontation over the autumn".
'Rubbish'
With several of the biggest unions spoiling for a fight over pensions, even threatening to go as far as co-ordinated nationwide strikes, this did little to raise morale.
Bad-tempered heckling littered the Labour leader's appearance thereafter.
He praised the academies programmes in England's schools, a particular bugbear of the education unions, declaring: "It's made a big difference to the kids in my constituency."
"Rubbish," shouted an enraged delegate.
Mr Miliband even dared to voice approval of Lord Hutton, the one-time Labour cabinet minister who has looked at pension reform at the coalition's behest - seen in some quarters as an act of betrayal.
Lord Hutton had produced "a decent report", he pronounced, to stony faces.
Some in the hall seemed to be wondering which Miliband brother had actually addressed them.
Ed, who had won the leadership with their explicit support, or David, the Blairite favourite who had narrowly lost out as a result?
Outside the hall, indignation prevailed.
Chris Kitchen, of the National Union of Mineworkers, told the BBC: "Ed Miliband's walking a tightrope but I don't think that's going to work for him. He's got to come down on one side eventually. He's not giving us anything to work with...
"I don't want him to feel beholden to the trade union movement but he's meant to be a Labour leader."
Simmering discontent
But Linda Rolph, of the banking union Advance, was a little embarrassed: "It's disappointing that if he's taken the time to come here that people don't listen... We should be respectful if people take the trouble to talk."
Delegates were also aware of the tactical game a Labour leader must play when addressing the TUC.
A little bit of booing would not do any harm, maybe helping Mr Miliband to throw off the "Red Ed" tag used by his detractors and to assert his independence.
Ms Rolph said: "If he had gone on and said 'We will support you in whatever you do and bring the country to its knees', that would be exactly what the Tory press wanted."
However, one delegate from Unite, the UK's biggest union, said: "We are not asking to be pandered to, just to be listened to."
Given the simmering discontent over pensions, perhaps it was just as well that Mr Miliband adjusted his closing remarks.
He told delegates at London's Congress House: "I know what a tough time many of your members are having at the moment.
"Tough times that are being felt by millions around the country too."
The message to the unions - who supply most of Labour's funding - could be summed up as: I feel your pain. We are all in this together.
According to the original script for his speech - circulated among the media - Mr Miliband had been expected to say the tough times were "also being felt by millions who aren't your members".
In the current climate that could have been interpreted as political-speak for: You're no different to anyone else. Stop your moaning.
Sometimes it's best when families say as little as possible to one another.