'Strong turnout' at new eurosceptic Conservative group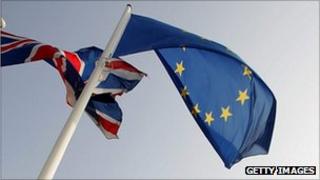 A "strong turnout" at a meeting of eurosceptic Tory MPs shows the support in the party for reshaping relations with the EU, it is claimed
More than 100 MPs - many of them new MPs - turned up to the first meeting of the new parliamentary group.
MP George Eustice said Europe was "too important to be swept under the carpet" despite past "scars" for the Conservative Party over the issue.
Ministers have ruled out any imminent renegotiation of European treaties.
Attitudes to Europe within the Conservative Party have hardened in recent months as EU leaders have spoken openly of the prospect of closer fiscal union to support the eurozone.
Eurosceptics see the crisis as an opportunity to halt further European integration.
'Very strong support'
Backbencher Mr Eustice, David Cameron's former press secretary, told the BBC there was the potential for treaty negotiations later this year and the group aimed to do the "heavy lifting" - preparatory work - ahead of any potential treaty renegotiations.
"It is absolutely imperative that Britain has a very coherent plan, as to what we want the European Union to do in the future, how we start to take powers back so we actually have a new relationship with the European Union that is settled.
"I think there's a very strong support for that within the parliamentary party and we saw that with the strong turnout tonight."
He admitted the party had "scars over discussing the European issue going back to the '90s" - divisions over Europe dogged John Major's premiership.
But Mr Eustice said the issue was too important to be ignored. But he added that the group's intentions were to discuss it constructively, in a way that was "supportive of the government" - rather than opening up old wounds.
BBC political correspondent Ben Geoghegan said he did not see any members of the government at the meeting but many of those who attended were new MPs.
One backbencher told him: "There is a growing storm coming over Europe and we have to have something important to say about it."
Another said: "Cameron's euroscepticism is not the party's euroscepticism - it is euroscepticism-lite."
Last year the government introduce a "referendum lock", guaranteeing that no further major transfer of powers from London to Brussels could happen without first being approved by the public.
Mr Cameron, who describes himself as a "practical eurosceptic", has said he could push for a renegotiation of existing EU rules on employment and financial regulation at an appropriate time in the future.
The Conservatives' coalition partners, the Liberal Democrats, have traditionally been the most pro-European of the major UK political parties and the coalition agreement drawn up after the 2010 general election states "we will ensure that the British government is a positive participant in the European Union".