Ed Miliband seeks banker disciplinary code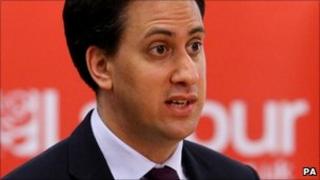 Labour leader Ed Miliband has given his backing to suggestions that bankers should face being struck off if they are deemed unfit to do the job.
He told the Sunday Times that the banking industry should "take some responsibility" by stopping wrongdoers.
Striking off bankers in the same way as doctors can be was proposed last year by a cross-party commission.
Mr Miliband said: "Nobody has paid the price for [the financial crisis] - that is what really angers people."
An independent banking report, to be published on Monday, is likely to call for banks to split retail operations from their riskier investment activity to help try to prevent a repeat of the economic crisis.
But the Labour leader called for more action, even if such a step was taken.
'Take responsibility'
He said: "Bankers say the era of remorse is over, but that's not good enough. I just don't think anything has really changed.
"There is a sense they just don't get it. This is nothing to do with the politics of envy. It is to do with the sense of real destruction caused by bankers, for which other people paid the price."
Calling for the creation of a disciplinary code similar to that observed by doctors and lawyers, he went on: "I think the industry should take some responsibility, and strike people off who do the wrong thing."
The idea for striking off bad bankers was put forward in June last year by the cross-party Future of Banking Commission, which included Business Secretary Vince Cable.
Meanwhile, the Trades Union Congress (TUC), which is meeting in London this week, has urged the government to stand up to banks and follow through with proposed changes to the banking system.
TUC general secretary Brendan Barber is set to tell delegates on the opening day of a three-day conference that recommendations by the Independent Commission on Banking, chaired by Sir John Vickers, should be defended against attacks by the banks.
In a speech to the Congress, he is expected say: "The Vickers team have been asked how to make the banks safe, but the real question is how we make them useful.
"Tougher capital requirements and ring-fencing will be bitterly opposed by the banks, who will now lobby hard to water them down. They should be resisted."
Business Secretary Vince Cable warned the banking industry to prepare for sweeping reforms so they could never again use "the deposits of British savers to play the banking equivalent of the roulette wheel".
Writing in The Mail on Sunday, he criticised institutions which continue to award top staff "lavish remuneration packages".
Mr Cable said: "Banks must be left under no illusions that reform is coming.
"The recession is not an excuse for postponing banking reform. Indeed our economic recovery depends on it."
Chief Secretary to the Treasury and fellow Lib Dem cabinet member Danny Alexander later dismissed reports Mr Cable would quit if the government delayed implementing Sir John's recommendations.
He told Sky News he had spoken to the business secretary and the claims were "total nonsense".
Mr Alexander added: "The important thing here is to get on with the job of sorting out our banking system."