Cuts are UK's 'rock of stability', says George Osborne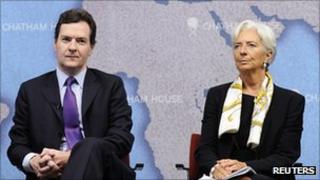 Chancellor George Osborne has insisted the government will stick to its deficit-reduction programme, calling it a "rock of stability" for the economy.
Speaking in London, he said it was "essential" to restoring stability, adding that ministers had "flexibility" to cope with future crises.
International Monetary Fund boss Christine Lagarde said the UK's stance on debt reduction was "appropriate".
But Labour said more had to be done to tackle slow economic growth.
The Organisation for Economic Cooperation and Development predicts the leading economies of the G7 group will grow by 0.2% in the last three months of the year.
It also expects 0.3% growth in the UK for the period, but says the economy could contract by as much as 1%.
The chancellor, who spoke alongside Ms Lagarde at the Chatham House think-tank in London, will travel for talks with G7 colleagues in France later.
'Flexibility'
He said: "As (Ms Lagarde) says, the UK's strong fiscal consolidation is essential to restore debt sustainability given the UK's very large structural deficit and large financial sector relative to GDP.
"That is why Christine Lagarde says our policy stance remains appropriate. But I agree with her that policy makers must remain alert to risks.
"That is why the automatic stabilisers and the ability of monetary policy to respond are key parts of the flexibility built in to our plan."
Mr Osborne went on: "We will stick to the deficit reduction plan we have set out. It is the rock of stability on which our economy is built."
Pressure has been mounting on governments to respond to increasingly bleak economic forecasts.
US President Barack Obama has unveiled a spending package worth around £280bn in a effort to stimulate growth and stave off a jobs crisis.
'Right pace'
Ms Lagarde said the risks from stagnating growth were increasing, and had to be weighed against risks of government debt.
Although tackling deficits was crucial, "we also know that consolidation, if it happens too quickly, will hurt the economy and worsen job prospects", she said, arguing that countries had to find the "right pace" to make cuts.
Prime Minister David Cameron told BBC political editor Nick Robinson that the government had done a great deal already to kick-start the economy, including lowering corporation tax and fuel tax and lauching the biggest welfare-to-work programme for 70 years.
"This is a government with a hugely ambitious growth plan and a hugely ambitious jobs plan," he said.
"But, at the same time, we have to recognise that if you don't get on top of your debts and deficit, if you can't give people confidence you have a plan to get out of the mess Labour landed us in, you will see interest rates rise, you will see confidence fall. That is not what we want."
For Labour, shadow chancellor Ed Balls said: "Christine Lagarde is right to repeat her warning that cutting too quickly will hurt the recovery and jobs and that there is scope for reducing deficits more steadily to support economic growth.
This is clearly a message aimed squarely at America, the eurozone and Britain too.
"It comes as no surprise that, despite those clear warnings, the IMF has diplomatically shied away from contradicting our chancellor in public - at least for now. In my experience, the IMF's message to Britain in private and at today's G7 meeting will be rather more blunt. "