No direct UK contact with Vladimir Putin since 2007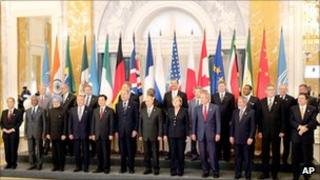 No UK minister or diplomat has spoken directly with Russian Prime Minister Vladimir Putin for four years, Whitehall officials have told the BBC.
The revelation comes as David Cameron prepares to make his first visit to Russia next week.
He is expected to see Mr Putin but a formal meeting has not been confirmed.
Relations between the two countries have been strained since the murder of ex-Russian security official Alexander Litvinenko in London in 2006.
Mr Litvinenko - an outspoken Kremlin critic - was fatally poisoned. His death led to both the UK and Russia expelling diplomats.
Britain is seeking the extradition of the main suspect, former KGB and Russian security service officer Andrei Lugovoi, to stand trial in the UK, but Russia says there is not enough evidence to justify handing him over.
There have also been tensions over Russia's attempts to shut down the British Council's offices in Moscow.
Improved communication
Former prime minister Gordon Brown did meet Russian President Dmitry Medvedev in the margins of several international conferences.
Mr Medvedev also called David Cameron last year to congratulate him on his election victory, and William Hague visited Mr Medvedev in Moscow last year.
But officials say there has been no substantive contact with Mr Putin at all because of the tensions. The last face-to-face contact is believed to have been a meeting between the Russian PM (who was then president) and Tony Blair at a G8 summit in 2007.
This shows the scale of the challenge facing Mr Cameron when he makes his first visit to Russia next week.
Officials say they do not expect to reset the relationship entirely, but they are hoping to improve channels of communication and do more to encourage trade between both countries.
He will be the first UK prime minister to visit Russia since Mr Blair went there in 2006 for the G8 summit in St Petersburg. A likely meeting between him and Mr Putin has not been officially confirmed.
Mr Cameron is travelling with a group of businessmen, including Bob Dudley, chief executive of BP, whose Moscow office was raided by special forces last week.
Officials made clear that they did not expect any change in the stand-off over the Litvinenko case, which Mr Cameron will raise.
But they hope both countries will be able to put the issue to one side and develop their business links.