Hague unveils Foreign Office 'renaissance'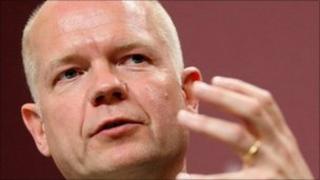 The UK is bringing ambassadors out of retirement and improving training as part of a drive to bring about a "renaissance" at the Foreign Office.
More staff are also being sent to emerging powers like China and India.
Foreign Secretary William Hague said the FCO's status had declined under the previous Labour government.
But former foreign secretary Jack Straw said Labour had increased spending on the FCO and accused Mr Hague of setting out "a parody" of the department.
In a speech at the FCO offices in central London which was also posted online, Mr Hague said: "I formed the firm view in opposition that the Foreign Office had been devalued and sidelined in British government, too often ignored by prime ministers and weakened as an institution.
"After years in which the level of ambition of ministers has been that government departments are simply fit for purpose, in the Foreign Office we have set ourselves the goal of excellence in every crucial area of our work."
Staff turnover
When he arrived at the Foreign Office, Mr Hague said he "found evidence that dysfunction and rivalry" in the relationship between ministers had "corroded ties between the FCO and its closest partners" in government.
"In my first weeks in office I received advice warning me about a planned overseas visit by another secretary of state, assuming that I would want to stop that visit going ahead and advising me how to do this.
"It spoke volumes about the relationship between some ministers under the last government that officials believed this would be what I wanted.
"It may also reflect the astonishing turnover in junior ministers in the Foreign Office in recent years."
In May, the foreign secretary announced plans for five new embassies: in El Salvador, Kyrgyzstan and South Sudan, and in Madagascar and Somalia when local circumstances permit.
Extra offices are set to open in the world's fastest growing economies including Brazil, Mexico, Turkey and Indonesia.
Mr Hague also told MPs there would be 50 extra British staff in China and 30 more in India.
The BBC's diplomatic correspondent Bridget Kendall said the plans were "a tall order" at a time of swingeing Whitehall cuts, but they reflected a general shift in focus away from seeing the world solely as a globalised network towards the old-fashioned business of diplomacy between nation states.
Mr Hague told the BBC his plans were achievable despite a 10% budget cut, and insisted it would be "a false economy" to reduce Britain's overseas presence when there were "more and more centres of decision-making in the world".
'Strong on rhetoric'
"We have to be under their skin, we have to really know them, their languages, just going to international meetings in not sufficient," he said.
"We've got to have the strong, deep bilateral relationships as well and I think that point was missed by the previous government."
But Mr Straw, who was Labour foreign secretary between 2001 and 2006, rejected Mr Hague's allegations, calling his speech "strong on rhetoric and very short on facts".
"Spending on the Foreign Office rose under Labour and is being cut under Hague," he told the BBC.
"His description of the Foreign Office when I was there is not one I recognise. What he sets out is a parody."
Mr Hague said his department was spending £1m more a year on language teaching and diplomats were being equipped with "sharper economic skills" through beefed-up training.
He also pledged greater emphasis on "cultivating and retaining knowledge throughout the institution" by ensuring the expertise of senior diplomats was not lost after they retired aged 60.
To do this, an advisory group of former ambassadors and other diplomats will be set up to offer advise to ministers on policy.