David Cameron's NHS 'support' claim disputed by staff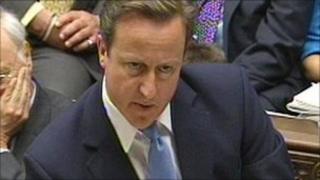 A row has broken out after David Cameron told MPs that doctors and nurses were now "supporting" government plans to overhaul the NHS in England.
Following the remarks during prime minister's questions, the Royal College of Nursing issued a statement saying it still had "very serious concerns".
The Royal College of GPs said it was "extremely worried" about some aspects.
The health bill cleared its Commons stages on Wednesday, despite criticism from some Lib Dems as well as Labour.
It was approved by MPs by 65 votes, and will now go to the House of Lords where it is expected to face further opposition.
Earlier this year, the government was forced to "pause" the bill while ministers re-consulted on the proposals via a listening exercise called the NHS Future Forum.
A number of changes were subsequently made to the legislation.
'Risks'
But during Prime Minister's Questions, Mr Miliband told the PM that in newspaper articles published this week, the British Medical Association, the Royal College of GPs and the Royal College of Midwives had still "all rejected your bill".
But in his reply, Mr Cameron insisted that "now you've got the Royal College of GPs, the physicians, the nurses, people working in the health service supporting the changes we're making".
Later though, two of the professional bodies mentioned by the prime minister issued statements apparently disputing the comments he had made.
Dr Peter Carter, general secretary of the Royal College of Nursing, said: "While we acknowledge that the government have listened to our members in a number of areas, we still have very serious concerns about where these reforms leave a health service already facing an unprecedented financial challenge."
He said the government had changed the bill in response to calls from nurses, including amending the role of competition in the health service, and he welcomed the commitment made to supporting ongoing professional training.
"However, at a time when the NHS needs to find £20bn in efficiencies, tackle waste, work harder to prevent ill-health and deal with an ageing population, we are telling MPs that this bill risks creating a new and expensive bureaucracy and fragmenting care," Dr Carter said.
"This fragmentation risks making inequalities worse, and preventing health providers from collaborating in the interests of patients. As the bill enters this final phase, we will be working to ensure that there are checks and balances to avoid these very real risks."
Dr Clare Gerada, chair of the Royal College of General Practitioners, said it supported the idea of giving more power to GPs.
"However, we continue to have a number of concerns about the government's reforms, issues which we believe may damage the NHS or limit the care we are able to provide for our patients. These concerns have been outlined and reiterated pre- and post-pause," she said.
"As a college we are extremely worried that these reforms, if implemented in their current format, will lead to an increase in damaging competition, an increase in health inequalities, and to massively increased costs in implementing this new system."
A Department of Health spokesman said later: "The independent NHS Future Forum confirmed there is widespread support for the principles of our plans, which give freedom and control to doctors, nurses and front-line professionals."
Lib Dem rebels
The disagreement followed an earlier row over comments made by Health Minister Lord Howe.
He told a meeting of private health providers that the overhaul of the NHS presented "huge opportunities" for the commercial sector, and it should not matter "one jot" who provided care as long as it was free at the point of delivery.
Unions and Labour said the remarks revealed the government's true intentions.
Four Lib Dem MPs - out of a total of 57 - voted against the health bill on Wednesday evening.
They were Andrew George, Julian Huppert, Greg Mulholland and Adrian Sanders. Another Lib Dem, Stephen Gilbert, voted both for and against - a device to register a deliberate abstention.
It is also thought that a small number of Lib Dems unhappy with the legislation did not vote at all.