Gaddafi must not be sheltered, says William Hague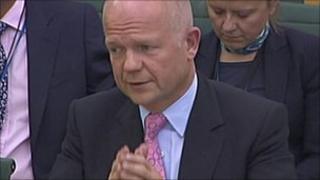 Any country that has signed up to the International Criminal Court should not offer refuge to Col Muammar Gaddafi, the foreign secretary has said.
William Hague told a committee of MPs that the Libyan leader should be handed over - amid reports that Gaddafi loyalists had fled into Niger.
Niger is signed up to the ICC, but the African Union has told its members to ignore the arrest warrant for Gaddafi.
Mr Hague admitted there was some "disquiet" about the ICC within Africa.
Giving evidence to the foreign affairs select committee, Mr Hague also said he supported the efforts of Tony Blair's government to improve relations with Col Gaddafi, but suggested that some of those appeared to have "gone too far".
"I think that overall was the right approach. Then, of course, there is scope for argument about what you might regard as the chumminess of the situation," he said.
And he added: "I think some of the things that have been said about the extent of links with members of the Gaddafi family, particularly in retrospect, look to have gone too far and it would have been better if ministers had not gone so far at the time."
Court 'impartial'
Niger's Foreign Minister Mohamed Bazoum has told the BBC that the country cannot close its borders to prevent members of the Gaddafi regime from entering.
He said Col Gaddafi himself had not crossed the border or asked to cross, but officials in Niger have said the Libyan leader's security chief, Mansour Daw, was among those who entered the country in a series of convoys on Sunday.
Mr Hague said there was no concrete information about Col Gaddafi's current whereabouts.
"If he had gone to a country which is a signatory of the ICC of course, we would expect them to hand him over to the International Criminal Court," he said.
"If he is captured in Libya by the NTC [National Transitional Council] then it is up to them, working with the International Criminal Court, to decide how to proceed."
Asked about the African Union, which called in July for its members to disregard the ICC's warrant for Gaddafi, the foreign secretary said: "Obviously we don't agree with that at all."
But he said that in part because of "an accident of timing", which had seen the ICC occupied with many cases involving Africa recently, there was some mistrust among African nations towards it.
"There's disquiet in Africa about the International Criminal Court and a certain perception that the ICC is mainly concerned with Africa," he told MPs.
"I don't agree with that, but I think we should reassure people in Africa that the ICC will do its job professionally and impartially all over the world. I do think we have to give them reassurance."
Last month, the west African country of Burkina Faso - a neighbour of Niger and another ICC signatory - offered Col Gaddafi asylum, but on Tuesday it reversed its stance, saying he would be arrested if he entered its borders.
'Not very heroic'
Mr Hague said he did not believe Col Gaddafi would become some kind of martyr if he was killed, or a rallying point for further conflict if he was captured and tried.
He said "former dictators" caught in recent years had "not been very heroic figures".
The foreign secretary was also asked about the discovery of papers in Tripoli which reportedly suggest co-operation between MI6 and the Gaddafi regime, including over the names of Libyan dissidents in the UK.
Sir Peter Gibson's inquiry into alleged involvement in torture by UK security agencies has said it will investigate.
It had been reported that the documents were found in the remains of the British embassy in Tripoli, but Mr Hague said he believed staff had destroyed or removed all paperwork when they left.
He added: "If there is a specific allegation which needs to be answered then they [the Security Service] and ministers in the previous government can, of course, be questioned by the Gibson inquiry."