Downing Street staff stage fundraiser for Larry the cat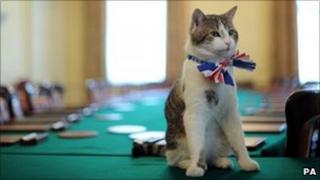 Downing Street sources have confirmed they will be holding a quiz night fundraiser - in honour of the prime minister's cat Larry.
Until now, David Cameron's staff have made their own contribution to the Big Society by paying for Larry's upkeep.
It is understood the event will take place in the State Rooms at No 10.
It will raise money for the kitty to keep Larry - a rescue cat brought in to help with Downing Street's rat problem - fed and watered.
It is even thought a special cat-themed round of questions will feature in the contest.
In a separate development, it can be revealed that Larry has a girlfriend.
Maisie, a cat who lives at the nearby St James' Park keeper's cottage, has struck up a relationship with Larry, a spokesman for the Royal Parks has confirmed.
There is, though, no prospect of kittens, as Larry went under the knife some time ago.
The news, originally reported by Paul Waugh on the Politics Home website, may provide an explanation for why Larry spends most evenings out - and most days fast asleep in 10 Downing Street.
Larry was initially appointed First Cat in order to catch rats - which were seen brazenly scuttling along Britain's most famous street during live TV reports.