Peers concern at 'tsunami' of new legislation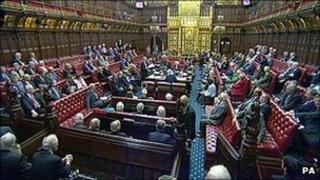 A "tsunami" of legislation means laws are being passed without proper scrutiny, peers have told the BBC.
Members of the House of Lords said the volume of work before Parliament was overwhelming, with thousands of extra pages of laws being created each year.
Conservative Lord Cormack told the BBC it was difficult "to have quantity as well as quality".
Commons Leader Sir George Young said ministers had made efforts to introduce fewer bills and to increase scrutiny.
The House of Lords is holding a September sitting for the first time since 2004, following the summer recess.
It has to scrutinise 28 bills in the coming Parliamentary year. Some are just a few pages in length, but six of the bills have a combined total of more than 1,000 pages.
'Depressed'
Liberal Democrat Lord Phillips of Sudbury told BBC Radio 4's World at One programme: "We are legislating at a level and rate that is unsustainable. The whole thing is farcical, it's a tsunami. We're drowning in the stuff.
"I'm depressed by the amount and complexity of the stuff going through."
Lord Phillips said that successive governments in recent years had added up to 9,000 pages of laws to the statute book each year. Figures for 2008, the last year for which complete data is available, show that more than 14,500 pages of law were added.
It is not just the volume which concerns peers, it is also the complexity. The Localism Bill, which is going through the House of Lords at the moment, has 472 pages. The Health and Social Care Bill has 434 pages and dozens of amendments.
Lord Cormack, a Tory peer who used to criticise the amount of legislation brought forward by the Labour government when he was an MP, told the BBC that things had not improved under the coalition.
"Every government, whatever its political complexion, has promised that it would legislate less and it has broken that promise," he said.
"And this particular government has done it in spades. We've had an enormous amount of legislation. Some of the bills have been incredibly complex and far too long."
Leader of the House of Commons Sir George Young said he sympathised with the peers' arguments.
He said the government was trying to improve the quality of scrutiny: "If you go back to 1997, the last time the government changed, in their first year the Blair government introduced 53 bills.
"In our first term we have introduced 30 and we've got a two-year session instead of the normal 15/16 months that you have in the first year of a Parliament.
"We have made a determined effort to introduce fewer bills, and to have more time to consider them."