Nadine Dorries in 'covert whipping' claim on abortion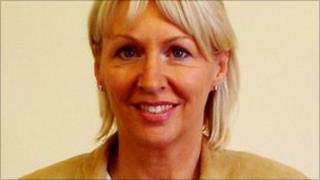 The Tory MP trying to change abortion advice offered to women in England has criticised ministers for trying to influence a "free vote" on the issue.
Nadine Dorries says a letter sent to all MPs about her amendment was a form of "covert whipping".
Abortion is an issue on which MPs are allowed to vote with their conscience rather than along party lines.
David Cameron has said that although he is sympathetic to Ms Dorries' case, he will not vote for her amendment.
The prime minister is concerned the proposed change would prevent abortion providers like Marie Stopes and the British Pregnancy Advisory Service (BPAS) from offering counselling, his spokeswoman said.
'Wobbly'
Health Minister Anne Milton wrote to all MPs on Friday to make the same point and say that all health ministers would oppose Ms Dorries' amendment if it came to a vote.
Ms Dorries told the BBC on Monday that move had been "unprecedented" - but may backfire because some Conservative MPs who had been "wobbly" on the issue may now vote for her amendment because they "don't like being told" how to vote.
She blamed Deputy PM Nick Clegg for Mr Cameron's coolness towards her amendment - claiming he had "blackmailed" the prime minister by saying that Lib Dem MPs would not vote for the health bill if her amendment was carried.
She said the letter sent out on Friday was "a covert, secret whipping" operation which was "unprecedented" ahead of a "free vote": "Nick Clegg has put pressure on the prime minister, the prime minister is putting pressure on MPs."
Sources close to Mr Clegg have said there were conversations about the issue but have played down reports the Lib Dem leader demanded the change. Downing Street has said Conservative MPs were under no pressure to vote a particular way.
MPs will debate the Health and Social Care bill on Tuesday and Wednesday.
But with 1,100 amendments tabled on different aspects of the controversial and much-delayed piece of legislation, aimed at shaking up the NHS, it is not certain that Ms Dorries' amendment - which is backed by Labour backbencher Frank Field - will be called by Speaker John Bercow.
'Too high'
At present, women seeking an abortion need the consent of two doctors, which can be obtained through an NHS clinic or GP surgery, or at a private provider, such as Marie Stopes or BPAS, affiliated to the NHS.
In both cases, staff have a duty to provide counselling to the women who use them - and under Royal College of Obstetricians and Gynaecologists' guidelines that advice should be impartial, objective and unbiased.
Ms Dorries amendment says "independent information, advice and counselling services" should be among statutory duties on the NHS - and if a private body is to supply NHS-funded advice it should "not itself provide for the termination of pregnancies".
She argues that current arrangements mean that women who may have doubts find themselves on a "conveyor belt" to an abortion and says her amendment would give them more choice.
But pro-choice campaigners say independent bodies could include faith-based groups morally opposed to abortion.
On Sunday Conservative Defence Secretary Dr Liam Fox said the number of abortions was "far too high" and he would support amendments which saw numbers fall.
Lib Dem peer Lord Steel - whose private member's bill led to the Abortion Act 1967, the law which still governs abortions in England, Scotland and Wales - told the BBC that women considering an abortion already had to speak to two doctors before going to the clinic, so already had "counselling at that level".
He said the Department of Health had total control over clinics, and could close them down if there were any complaints about counselling and said there were concerns that changing the law could cause further delays to abortion.
'Neutral organisation'
The Department of Health has said it wants a consultation about the advice available to women seeking abortions and has not finalised any proposals yet, but it does not propose to strip abortion charities of their ability to provide advice.
A number of other MPs have put forward amendments to the health bill in relation to terminations.
Conservative Louise Mensch is proposing that women should be offered counselling by a "neutral organisation", ideally the NHS itself, but at the very least, a body which is neither faith-based nor an abortion provider.
In addition, she says women should also have the additional choice to attend any registered counselling service, which could be one with a pro or anti-choice agenda.
Lib Dem MP Julian Huppert has tabled an amendment which would effectively give weight to the status quo, by requiring all organisations giving advice to follow current clinical guidelines and provide medically accurate information.