Rioters need tough love, says David Cameron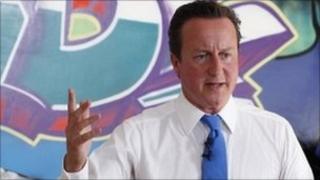 Prime Minister David Cameron has said those involved in the riots need "tough love" as he promised to "get to grips" with the country's problem families.
He has vowed to turn around the lives of 120,000 families by 2015.
The PM told the BBC the money to do that would be found, despite spending cuts, and that it would "save the country a fortune" in the long term.
He denied his response to the riots indicated a lurch to the right, calling himself a "common-sense Conservative".
In a wide-ranging interview with BBC Radio 4's Today programme, Mr Cameron said "tough love" - and indeed "both elements of it" - were crucial to dealing with rioters.
"For some of the children who've ended up in this terrible situation there was probably a failure in their background, in their families," he said.
"There probably was a shortage of not just respect and boundaries but also love. But you do need, when they cross the line and break the law, to be very tough.
'Systematic intervention'
"So to me tough love sums it up, that's what we need.
"That's what [Work and Pensions Secretary] Iain Duncan Smith and [Home Secretary] Theresa May and others in the government believe and will deliver.
"I think it's an opportunity, we have to use try and use this an opportunity, to do things to strengthen our society, which along with rebuilding a strong economy is going to be this government's priority."
He said the UK must "do better at bringing up our children" and insisted that "much more systematic" intervention in the 120,000 most troubled families was key.
"There's lots of contact with these families, but no-one's actually working on the family, to get into that family and work out what's actually wrong and put it right."
Asked whether he was proposing to do this without spending any more, the PM said: "I'm not saying no extra money... but this will be a great investment to save money for our country.
'Wake-up moment'
"How exactly we find the money, we'll come onto that, but don't worry, this is going to be done - it's a promise I have made."
Mr Cameron reiterated his belief that the riots that erupted in several English cities last month were straightforward criminality - rather than any form of protest - but he said it was not just a criminal underclass who were responsible for them.
"Tragically, we also saw people who were just drawn into it, who passed the broken shop window and popped in and nicked a telly.
"That is a sign of moral collapse, of failing to recognise the difference between right and wrong."
He added: "I think we all need to have a wake-up moment in terms of exercising our responsibilities."
The prime minister was asked about his membership of Oxford University drinking society the Bullingdon Club, some of whose members have been involved in acts of vandalism.
"We all do stupid things when we are young and we should learn the lessons," he said.
But Labour MP John Mann said Mr Cameron had "questions to answer" about his involvement in the Bullingdon Club.
"If we are to get more responsibility throughout our society following the riots then the prime minister should set an example," he said.
'Great mush'
Mr Cameron also criticised the BBC for in his view confusing the issues around the riots with wider problems of inequality and irresponsibility elsewhere in society, such as the banking industry.
He said that "when you listen to the BBC there is a sort of danger" that all the issues were put in a "great mush and make that as an excuse for not acting".
"Some people almost say 'Well, until we deal with the problem of inequality in our society there is nothing you can do to deal with rioting.'"
As presenter Evan Davis attempted to interrupt him, the PM said: "Well that's what it can slip into, Evan, if you are not careful."
A spokesman for the BBC said its coverage of the riots "endeavoured to explore all aspects, as our audiences would expect".
"We also sought to reflect a range of views as to the reasons behind the riots. We are confident we did this in an impartial and balanced manner."
On Twitter, Evan Davis said: "The point of the BC [Bullingdon Club] question was not to point the finger at Cameron for hypocrisy... it was about whether there is a general decline and whether we can forgive youngsters caught up in stupid things."