MPs urge export ban on eggs laid by battery caged hens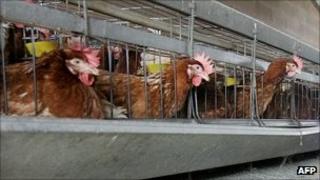 MPs have called for an EU-wide ban on the export of eggs which do not meet new welfare standards for laying hens.
The food and rural affairs committee said a third of eggs produced on the continent may not meet new rules outlawing conventional battery cages.
UK farmers complying with the rules could be at a disadvantage from cheap, illegal imports, it has warned.
But British retailers have guaranteed farmers and shoppers they will not stock eggs that do not make the grade.
EU-wide rules coming into force in January require all farmers and producers to provide "enriched" cages giving birds more space, nesting and perching areas and other features enabling them to behave more naturally.
But British producers are concerned that more than 100 million hens will still be housed in battery cages by early next year and EU enforcement of the regulations will not be strict enough.
'Not awake'
In a new report, the cross-party committee points out that British farmers will have spent about £400m on improving conditions for hens and yet risk being undercut by rivals on the continent which have failed to do the same.
"The European Commission has just not woken up to the impact that non-compliance with this legislation will have on egg producers in the UK and across Europe," said committee chairman Conservative MP Anne McIntosh.
"That money will be wasted and UK producers left at a competitive disadvantage if cheaper, illegal and non-compliant shell eggs and egg products can be imported to the UK from other EU countries."
The UK government should press for a ban on the import of eggs from countries that do not comply, she added, as a sign of its strength of feeling about the issue.
"Several member states have not provided data to the commission about the preparedness of their caged egg producers and thus far, the commission has failed to deal with the threat of large-scale non-compliance across the EU," she added.
There are an estimated 390 million laying hens across Europe. While nearly 45% of UK birds live in free range facilities, battery farming accounts for up to two thirds of production in some countries.
A ban on building new cages and using them for the first time has been in place since 2003 while the intention to phase them out completely was first announced in 1999.
'Unacceptable'
Compassion in World Farming said countries had had 12 years to prepare for the new regulations and it was "unacceptable" that some were still calling for more time to adjust.
Earlier this year the commission said the 2012 deadline was "feasible" and it was in a "continuous dialogue" with member states to ensure they abided by it.
Brussels has said that any trade in non-compliant eggs "should be avoided" but any further measures to ensure compliance needed more consideration.
Imports account for about 20% of eggs consumed in the UK.
Retail groups have sought to reassure consumers that leading supermarkets will not stock battery caged eggs on their shelves or include them in their own-branded products.
"UK egg producers have worked hard to meet high welfare standards ahead of parts of Europe," the British Retail Consortium's food director Andrew Opie said.
"Retailers will not compromise on welfare standards when it comes to the eggs on their shelves."