Alistair Darling to reveal rift with 'brutal' Brown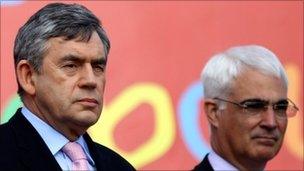 Former Chancellor Alistair Darling will reportedly lay bare the feuding at the heart of Gordon Brown's government at the time of the 2008 financial crisis in his forthcoming memoir.
And he will criticise Bank of England governor Mervyn King as "amazingly stubborn and exasperating".
Publishers Atlantic Books refused to comment on the leaked extracts.
A spokesman said the book, Back from the Brink: 1,000 Days at Number 11, will be serialised in a Sunday newspaper, starting this weekend, ahead of its official publication next Wednesday.
Mr Darling, who served as chancellor between 2007 and 2010, was not available for comment.
According to Labour Uncut, the book will confirm that Mr Brown attempted to sack Mr Darling as chancellor and offer him another role in the cabinet but was too weak to carry the plan through.
It was widely rumoured at the time that Mr Brown wanted to install his protege Ed Balls - now the shadow chancellor - in Mr Darling's place, following disagreements about Labour's response to the financial crisis.
The book will also claim Mr Brown tried to place close allies, such as Yvette Cooper and Baroness Vadera, at the Treasury to "keep an eye" on Mr Darling and report back on what he was doing.
But Mr Darling refused to have Baroness Vadera on his team, describing her as "only happy if there was blood on the floor - preferably that of her colleagues," according to Labour Uncut.
Mr Darling will also use the book to criticise Mervyn King, claiming ministers came close to sacking the Bank of England governor in 2008, after one term in the post.
In the book, Mr Darling will attempt to claim his share of the credit for the bail-outs that Mr Brown and some leading economists say helped save the global banking system from complete collapse.
Related Internet Links
The BBC is not responsible for the content of external sites.