Libya conflict: Gaddafi regime 'in death throes'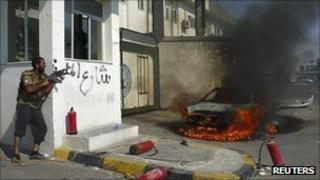 Foreign Secretary William Hague has said the regime of Col Muammar Gaddafi is in its "death throes".
Mr Hague said the battle for Tripoli was "not over yet", but claims that forces loyal to Col Gaddafi were regaining ground were a "fantasy".
Rebel forces have captured the leader's compound, with Col Gaddafi reportedly calling his retreat a "tactical move".
Pro-Gaddafi TV station al-Urubah also claims he has vowed "martyrdom or victory" in the fight for Libya.
Amid continuing pockets of resistance in Tripoli, the whereabouts of the Libyan leader are still unknown.
Mr Hague said rebel forces were continuing to register "clear and important successes" as they sought to gain full control of the capital.
"They couldn't have done that without our [United Nations] Security Council resolution, without what Nato and our allies have done in their air, but they have made the decisive effort on the ground, there is no doubt about that," he told the BBC.
But he warned that the situation in Tripoli was not yet "secure or ordered" with "a lot of people out there with weapons who were paid to be loyal to Gaddafi".
"We are in the death throes of the regime... but it's still a very difficult and dangerous time and it's not over yet," he said.
'Cornered'
Saif al-Islam, one of the Libyan leader's sons, sought to rally regime forces earlier on Tuesday by making a defiant appearance and claiming the regime had "broken the backbone" of the rebel advance.
But Mr Hague said this was a "fantasy" that could not be taken seriously.
Pro-Gaddafi al-Urubah also broadcast what it said was a live telephone interview with government spokesman Musa Ibrahim.
He said Libya would be turned into a "burning volcano and a fire under the feet of the invaders".
The spokesman also said that 6,000 volunteers had arrived to Libya to fight for Col Gaddafi. The claim has not been independently verified.
Earlier on Tuesday, Deputy Prime Minister Nick Clegg chaired a meeting of the National Security Council committee attended by Defence Secretary Liam Fox and International Development Secretary Andrew Mitchell.
After the meeting, the deputy PM said there would inevitably be "frustrations and setbacks" in Libya, such as the appearance of Saif al-Islam.
But he insisted: "This is not the sign of some great comeback for the Gaddafi regime.
"He is not roaming freely through Tripoli. He and indeed the remaining pro-Gaddafi forces are now cornered. They are making their last stand and it's only a matter of time before they are finally defeated. About that we are very confident indeed."
Asked whether the prime minister should have abandoned his holiday altogether, Mr Clegg said: "We as a government work collectively very effectively.
"I regularly chair meetings of the National Security Council... he is in constant contact with other world leaders and indeed with leaders of the National Transitional Council in Libya, and that is exactly the way that we will continue to operate."
International efforts
Mr Cameron said on Monday that Col Gaddafi's regime was "falling apart and in full retreat" and urged him to relinquish power "once and for all".
He said he and US President Barack Obama had reaffirmed the need for a peaceful transition of power in Libya and the importance of avoiding civilian casualties during a phone conversation on Monday.
Before leaving London, Mr Cameron also spoke by telephone to the leader of the Libyan National Transitional Council (NTC), Mustafa Abdul Jalil, and discussed the situation with French President Nicolas Sarkozy, Qatari Prime Minister Sheikh Hamad Bin Jassim and UN Secretary General Ban Ki-moon.
The prime minister also discussed plans for the UN Security Council to help the NTC with "diplomatic, legal and financial support" in the coming weeks and months.
British officials are taking part in a meeting with members of the NTC in Dubai on Tuesday to discuss how to ensure security and basic services should the Gaddafi regime fall.
'Role for UK'
The UK government has said Libyan assets in the UK will soon be unfrozen to help with post-conflict reconstruction, and the UK will offer help with medical supplies, food provision and communications and utilities services.
For Labour, shadow foreign secretary Douglas Alexander said he believed Mr Cameron had "struck the right tone" by being "cautious" in his assessment of developments in Libya, but "clear that Britain stands ready to offer its support".
"I do think there is a positive role that Britain can play, working through the European Union and the United Nations... in mentoring and supporting the National Transitional Council as they try and meet the economic challenges, the security challenges and the political challenges that undoubtedly they will face in the months ahead."
Mr Alexander said he did not believe there was any case for putting British troops on the ground in Libya as a peace-keeping or stabilisation force - and he said he was sure the government felt the same way.
"I think that would actually have the reverse of the intended effect. It could prove to be a magnet for opposition forces and a rallying cry for those people opposed to the National Transitional Council.
"If they [the NTC) require any international assistance I think it would far preferable if they were talking to their neighbours and other members of the Arab League."
The prime minister committed British forces to conduct aerial and naval missions in Libya in March, enforcing the terms of a UN mandate to protect Libyan civilians from attacks.
He has insisted that Nato's air mission in Libya would continue as long as necessary.
The foreign secretary was also asked about a call by a Conservative MP for Lockerbie bomber Abdelbaset al-Megrahi to be sent back to the UK from Libya and reimprisoned. He was released on compassionate grounds by the Scottish government in 2009.
Mr Hague said: "It was, of course, a matter for the Scottish executive... and so it's not a matter I can control, but if I was a Scottish minister rather than a UK minister I would be looking to urgently review the situation to see what I could do about it."