Tory MP Louise Mensch says threats made to her children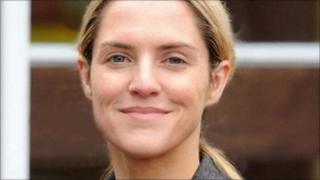 Conservative MP Louise Mensch says she has received email threats against her children from the hacking groups Anonymous and LulzSec.
She said she had contacted House of Commons authorities which have referred the matter to the police.
A spokesman for the Metropolitan Police said officers were examining an email.
Anonymous has targeted groups and organisations it believes threaten free speech online, while LulzSec's core focus has been to expose poor security.
Mrs Mensch, MP for Corby, made the claim on Twitter from her holiday in New York.
She tweeted: "Had some morons from Anonymous/Lulzsec threaten my children via email.
"To those who sent it; get stuffed losers. I have contacted the police via the House of Commons and the email is with them now. I don't bully easily, kids. Or in fact at all.
"Oh and I am posting it on Twitter because they threatened me to get off Twitter."
'Malicious communications'
Later in a statement, Mrs Mensch said: "Having discussed the matter with House of Commons police, and on their advice, I will not be releasing the email as they investigate; I do intend to release it once the police investigation has finally concluded.
"I am extremely grateful for the prompt action of police in parliament and in Northamptonshire in securing my family and in working hard to trace who sent these cowardly threats."
A Scotland Yard spokesman said: "We can confirm the Met has received an email this morning making allegations of malicious communications."
Mrs Mensch - best known as the best-selling author Louise Bagshawe until she married Peter Mensch, manager of rock band Metallica, in June - is an avid user of Twitter.
Riot response
Nevertheless, earlier this month, she backed a suggestion made after the riots that social networking websites should be closed down during periods of unrest.
She wrote, again on Twitter: "Social media isn't any more important than a train station, a road or a bus service. We don't worry about police temporarily closing those.
"Common sense. If riot info and fear is spreading by Facebook and Twitter, shut them off for an hour or two, then restore. World won't implode."
As a member of the Commons Culture, Media and Sport Select Committee Mrs Mensch took part in the questioning of News of the World executives over allegations of phone hacking.
She also became involved in a row on Twitter with former Daily Mirror editor Piers Morgan after accusing him of "boasting" about hacking phones. She later apologised and said she had made a mistake.
Targets
LulzSec has attacked a number of high-profile companies including Sony and Nintendo, and organisations such as the FBI, US Senate and the UK's Serious Organised Crime Agency.
It was also behind an attack on the Sun newspaper's website earlier this month at the height of the phone hacking revelations.
Anonymous has targeted several Middle Eastern governments and the Church of Scientology over what it sees as their threats to free speech.
It also temporarily shut down MasterCard and Visa last year after they froze the accounts of whistle-blowing website Wikileaks.