UK backs further Syria sanctions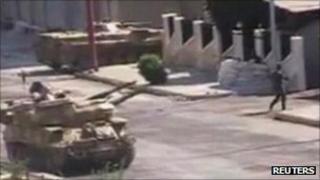 The UK will back further sanctions against Syria over alleged killings of anti-government protesters, Foreign Office Minister Alistair Burt has said.
Syrian activists say 40 people were killed by security forces on Friday, despite official assurances military action against civilians had stopped.
Mr Burt told the BBC that diplomatic pressure on President Bashar al-Assad must be backed by economic measures.
However, he played down the prospect of Europe banning Syrian oil imports.
Later, shadow foreign secretary Douglas Alexander said he was "deeply concerned" at the government's "equivocation" over sanctions on Syrian oil.
Human rights groups believe about 2,000 people have been killed and thousands arrested since March, as Syria's security forces - using tanks, helicopters, gunships and snipers - try to quell dissent that has broken out in much of the country.
Despite Mr Assad's promise on Wednesday to stop security forces firing on protesters, activist accounts and internet video postings indicate nothing much has changed, according to BBC correspondent Jim Muir, in Beirut.
Mr Burt told BBC Radio 4's Today programme on Saturday: "Our view is that sanctions must continue to be targeted on those who support the regime.
'Travel bans'
"Sanctions should be considered on the basis of what will have most effect on changing that situation or improving the situation for the Syrian people."
Further measures could include freezing the assets of individuals or organisations, imposing travel bans and imposing sanctions on telecommunications or banking firms, Reuters news agency reports.
US President Barack Obama has led calls for Mr Assad to step down and European Union foreign affairs chief, Lady Ashton, says proposals are being drawn up to follow the US lead in banning oil imports from Syria.
Europe is Syria's biggest oil export market.
However, Mr Burt said: "We've not take a decision on oil. It's got to be discussed because to be effective it's got to work collectively with the rest of the EU.
"What we are doing is increasing the pressure in a manner which does not enable a Syrian spokesman to say 'You are damaging the Syrian people'."
Clear message
Speaking on Sunday, shadow foreign secretary Douglas Alexander told the BBC: "I hope that this week the European Union led by the British government will join the action taken by the American government last week and move decisively in favour of broader sanctions, particularly in relation to oil exports.
"I really think it is imperative that the British government acts."
Mr Alexander said Britain should also consider recalling its ambassador in Damascus for discussions after Italy and Switzerland withdrew their representatives.
"There is a case to send a very clear message to President Assad that the international community is determined to strengthen that isolation," he said.
Reem Haddad, a spokeswoman for the Syrian Ministry of Information, said oil sanctions reminded her of US-imposed sanctions in 2005 when "sick people couldn't find medicine to buy".
"[Oil sanctions] will have an impact on ordinary Syrians. What is the point of doing that?"