Labour launch campaign against badger cull in England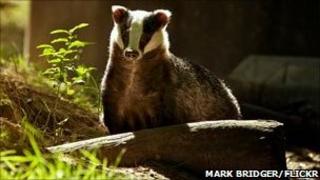 Labour have launched a campaign against a proposed cull of badgers in England to curb tuberculosis in cattle.
The government - backed by its senior scientific advisors - is in favour of a cull to stop badgers spreading the disease to cattle.
But opponents say its preferred method - shooting - could actually make the problem worse and shadow environment secretary Mary Creagh wants a rethink.
She says efforts should be focused on developing a vaccine to tackle TB.
The European badger is a protected species, but ministers can sanction killing in certain circumstances, including to tackle disease.
Following the Welsh Assembly elections earlier this year, the Welsh government is reviewing its culling policy.
'Controlled shooting'
The world's biggest scientific study into the issue found that a cull could lead to a 16% reduction in the local incidence of bovine TB.
In that trial, badgers were trapped in cages and then shot, but the government - and farmers - are keen to have marksmen shooting badgers as they roam at night, which is much cheaper.
The effectiveness of "controlled shooting", as it is known, has never been tested.
Opponents also fear it will simply make badgers scatter into surrounding areas, carrying the TB bacterium to other farms and increasing disease incidence in herds on the edge of the cull zones.
The government is currently consulting on using the technique and plans to pilot it in two areas next spring, providing the consultation throws up no major obstacles. A wider cull could then be carried out in 2013.
But Labour say they should drop the idea altogether.
Mrs Creagh said: "Bovine TB is a terrible disease but the government's plans to cull badgers are bad for farmers, bad for badgers and bad for the taxpayer.
"We need a science-led policy to manage cattle movements and develop a vaccine to tackle TB in badgers and cattle. Instead, the Tory-led government has reduced the number of vaccine trials Labour commissioned to just one."
Labour has launched an online petition and has written to more than 25,000 supporters of previous countryside and animal welfare campaigns asking them to lobby their MPs about the issue.
Bovine TB is estimated to cost the UK agricultural sector about £100m per year, with particular hotspots in south-west England and the West Midlands. In 2010, 25,000 cattle were slaughtered for TB control in England
A poll carried out for the BBC in June suggested a majority of Britons - 63% - in both town and country opposed a badger cull to try to tackle the disease; 31% were in favour and the remainder undecided.