Peer says 'inconsistent' riot sentences may be 'unjust'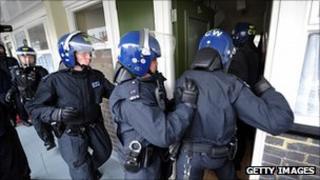 A former director of public prosecutions says a lack of consistency in sentencing over the riots may be leading to "injustice" in some cases.
Lord Macdonald, now a Lib Dem peer, told the BBC the Sentencing Council should urgently publish guidelines to help judges and magistrates.
David Cameron has defended courts for handing out "tough" punishments.
But ex-Lib Dem leader Sir Menzies Campbell said politicians should neither "cheer nor boo" the sentences.
Among those sentences already handed down, two men were jailed for four years at Chester Crown Court for using Facebook to incite riots. One is appealing against the sentence and the other is considering doing so.
The Courts Service said there had been no political involvement in the advice given to courts, but a number of senior barristers and prison reform charities have argued that some of the jail terms have been too severe or inconsistent.
'Dangerous'
Lord Macdonald said it was "difficult to see, on the facts that we know, that there's justification for [the] disparity" seen in some of the sentences handed out.
"I think that leads to injustice in individual cases," he told BBC Radio 4's Today programme., adding that judges must remain "dispassionate" and should not get "swept up in any sort of moral panic".
Asked about a five-month term handed to a mother-of-two found in possession of a pair of stolen shorts, he said that did appear to be "a very severe piece of sentencing".
"There are no guidelines for sentencing in cases of widespread looting and disorder, and indeed, it seems in some circumstances magistrates are being encouraged to move away from such guidelines as there are for burglary, theft and so on, and I think that is rather dangerous because if you move away from guidelines you're bound to increase inconsistency.
"It would be a very good idea if the Sentencing Council could meet and issue some guidelines for sentencing in this area.
"The whole point of guidelines is to achieve consistency and fairness... we shouldn't be finding ourselves in a situation where people are receiving wildly different sentences for offences that on the facts seem to be relatively similar - I mean that's just not justice."
Sir Menzies, who is a QC and former leading criminal prosecutor, told BBC Radio 4's PM programme that the idea politicians could "somehow in blanket or specific terms approve or disapprove of sentences is a very dangerous one".
"It's none of our business. It's not consistent with the rule of law," he said.
On Wednesday, the prime minister said it was up to courts to make individual decisions but said they had "decided to send a tough message and it's very good that the courts feel able to do that".
Sir Menzies suggested the PM should have limited his comments to endorsing courts' independence.
"My view is that politicians should neither be cheering nor booing when it comes to the matter of sentences. Politicians make the law, police enforce the law and it for judges to implement the law."
'Uphold liberties'
Justice campaigners have expressed concerns about the length of sentences in some cases and whether custodial sentences are the right answer for less serious offences.
Lib Dem MP and party president Tim Farron warned against "knee-kerk" sentences, saying they should always be "appropriate" to the seriousness of the crime.
"I'm not against examples being made at all but we [must be careful we] don't go and undermine the civil society we are trying to protect," he said,
"As liberals we are bound to be concerned that we uphold the traditional British liberties at a time when they are potentially under threat from people wanting immediate revenge and a harsh crackdown on those who may or may not have been responsible and that concern is clearly there."
Some Lib Dem backbenchers have attacked the tone of their Conservative coalition partners' response to the riots and their causes, one reportedly describing proposed solutions as "bonkers".