Somalia famine: Andrew Mitchell visits Mogadishu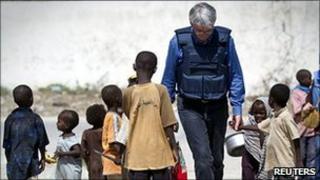 UK International Development Secretary Andrew Mitchell has become the first British minister to visit Somalia's war-torn capital in 18 years.
Mr Mitchell warned of a race against time to tackle the "devastating famine" in the country and said without action 400,000 children could starve to death.
Two weeks ago, Islamist rebels pulled out of Mogadishu, but conflict has hampered aid efforts in the country.
Mr Mitchell pledged a £25m ($41.5m) aid package, including food and medicine.
His pledge came as the 57 member states of the Organisation of the Islamic Conference pledged $350m to help famine victims in Somalia, after a one-day OIC meeting in Istanbul.
The United Nations estimates that 12 million people have been affected by drought in the Horn of Africa.
Somalia has been without an effective central government since 1991 and has been plagued by infighting between rival warlords.
The UK government says the last British minister to visit Mogadishu, often described as the world's most dangerous city, was Lynda, now Baroness, Chalker in 1992.
Mr Mitchell, who has now left Mogadishu, said: "The stark fact is that in southern Somalia the situation is deteriorating by the day. We could face deaths on a similar scale to those seen in 1991-2 if we do not act urgently now. This is a race against time."
He said more security was needed to protect humanitarian workers - and other countries "must also maintain and increase their support at this crucial stage".
The government says the money announced on Wednesday brings UK support offered to Somalia to £54m since July.
Vaccines
The Department for International Development says a lack of health care, immunisation, clean water and sanitation in Somalia are fuelling outbreaks of diseases including cholera and measles.
It says urgent action is needed to provide food and combat disease to prevent deaths.
Mr Mitchell said the latest UK funds would allow UNICEF - the UN organisation for children - to provide supplementary rations for up to 192,000 people and supplies to vaccinate 800,000 children against measles.
The aid package will also help UNICEF provide polio vaccines, vitamin A, and deworming supplies and equipment to help prevent malaria.
During the trip, the cabinet minister visited a refugee camp and feeding centre, and met officials including Somali prime minister Abdiweli Mohamed Ali, who last week announced that a force of 300 men had been created to protect aid convoys - helped by African peacekeepers providing security in Mogadishu.
On Tuesday, the UN said death rates were at alarming levels in a refugee camp in Ethiopia - where many Somali refugees have fled - and on average 10 children under the age of five were dying each day.