'Worrying' jobless rise needs urgent action - Labour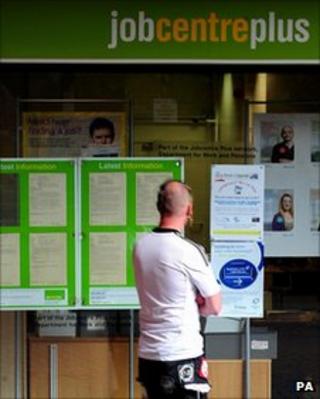 Labour have said ministers need to take urgent action to reverse the "very worrying" rise in unemployment.
The number of people out of work rose by 38,000 to 2.49 million in the three months to June, official figures show.
The opposition said the situation was "very serious" and ministers must consider work guarantees for under-24s.
Ministers said the figures were "disappointing" but jobs were being created and "intensive" help being given to those looking for work.
Following the quarterly rise, unemployment levels are now at their highest since February 2010.
The number of 16 to 24-year-olds out of work rose by 15,000 to 949,000 over the latest period, according to the Office for National Statistics, while the level of unemployed women rose by 21,000 to a 23-year high of 1.05 million.
"Today's unemployment figures are, of course disappointing," said Chancellor George Osborne.
"I have to say with what's going on in the world at the moment and the world markets they are not entirely unexpected."
But he added: "There is some good news, that employment, in other words people in work, that number is still going up - we are creating jobs in this economy as well as jobs being lost."
'Not disheartened'
Employment Minister Chris Grayling said the government had launched an "intensive" back-to-work programme in June and "most people" were able to find employment within a couple of months.
He said the private sector had created nearly 500,000 new jobs over the past year.
"Those people looking for jobs should not feel disheartened," he told the BBC. "There is much more specialist support available for you and most people do move into work quite quickly.
"But I do not underestimate the nature of the challenge we face. We live through very difficult times economically. This is going to be a long and difficult process."
Mr Grayling acknowledged there was a "big problem" with youth unemployment although he said the official 949,000 figure included many full-time students and the true number of young people who were out of work was "much lower" than that.
"The challenge for us is to create an environment where businesses are growing, and developing and investing and creating jobs. That is the only way that we will create sustainable employment for the future."
'Damaging'
Labour said the "momentum" the economy had shown at the start of 2010 - when the party was still in power - had been lost and the government needed to reconsider its strategy of public sector spending cuts.
Shadow employment minister Stephen Timms said: "These figures are very worrying.
"A big rise in unemployment, a big rise in the number of people receiving benefit and now the largest number of women unemployed for 23 years ... we're just not seeing the jobs being created that we need."
"To be in a position where we are losing very large numbers of public sector jobs and the private sector is not growing fast enough to make up the difference is a very serious position. The government needs to address it."
Mr Timms said the last government had guaranteed that any 16 to 24-year-old out of work for a year received either a job or workplace training.
"I think the government does need to look again at that kind of approach," he said, adding having a large number of people unemployed at the start of their working lives had "very damaging long-term consequences for them and therefore the economy as a whole".
"The government needs to tackle that much more urgently than it has done so far."
Trade unions accused the government of being "complacent" over the state of the economy.
"The chancellor's plans for job creation are woefully inadequate," TUC general secretary Brendan Barber said.
"He urgently needs to put forward a plan B before our economy heads back towards recession and even more people lose their jobs."