Police inundated with treats from public after riots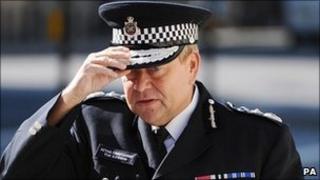 They normally get by with a doughnut or a lolly as they patrol the streets, but police are being confronted with a bigger threat to their waistlines, the UK's top officer has warned.
Londoners are offering cakes and even three-course meals to thank officers for dealing with the recent riots.
Acting Metropolitan Police commissioner Tim Godwin said his staff must not "spend too much time eating".
Otherwise they would "end up with a figure like mine", he joked.
The Commons home affairs committee heard that many officers had worked 20-hour shifts as they dealt with the demands placed on them by last week's rioting.
'Full menu'
Many had been cheered by grateful residents as they patrolled the streets, Mr Godwin said.
But he offered a tongue-in-cheek warning about their calorie consumption.
He told the MPs: "People have been offering them in for dinner. They've been creating showering facilities.
"I believe one community centre has gone from cakes being baked by citizens for local officers - who'll end up with a figure like mine, if they carry on - to a full menu being laid on.
"We are trying to dissuade them from spending too much time eating."