Clegg signals support for 50p tax rate to stay in place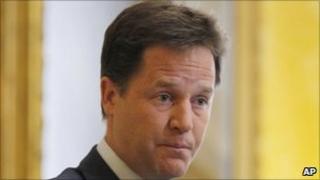 Deputy Prime Minister Nick Clegg has suggested the 50p top rate of income tax should stay despite growing Conservative hostility to the measure.
Mr Clegg said the coalition's focus in tough financial times was on helping those on low and middle incomes not "a small minority at the very top".
George Osborne has said the tax rate is "very uncompetitive" as top-earners can avoid paying it by moving abroad.
The chancellor is to assess how much money the tax is generating.
The review, to be conducted by the Inland Revenue, has been seen by some of a sign that the tax could be phased out by 2013.
The 50p tax rate, levied on incomes of more than £150,000, was announced by the previous Labour government in 2009 and came into force in April 2010.
The coalition decided to retain the rate after taking power although senior Tories, including Mr Osborne, have always described it as a temporary measure to deal with the UK's huge deficit.
'Small minority'
Many Tory MPs are unhappy about the 50p rate continuing indefinitely and London Mayor Boris Johnson has led a vocal campaign against it, saying it risks driving firms abroad and discouraging entrepreneurs at a time when economic growth remains very weak.
But Mr Clegg signalled that the 50p rate should stay as the government's tax priorities lay elsewhere.
At a press conference in London on the government's response to last week's riots, Mr Clegg was quizzed about the coalition's tax policy.
The Lib Dem leader said the government was focused on relieving the burden on low and middle income families squeezed by rising prices and stagnant incomes.
Ministers had raised the level at which people start paying income tax, he added, so that 800,000 of the lowest-paid were not paying anything at all, rising to a million by next April.
"The coalition agreement is clear that what takes precedence, if you have got money and the ability to provide tax relief to people, is tax cuts for million of people on middle and low incomes," he said.
Mr Clegg said he supported the chancellor's decision to review how the tax was operating - which should be completed by next spring.
But he stressed: "When living costs are high, when people are really feeling the strain, of course it is right to prioritise help, where you can give help, to the millions of people who need that help the most and not prioritise help to a very, very small minority of people who don't need as much help - in other words, the people at the very top."
'Not efficient'
Mr Osborne said on Saturday that he wanted to know if the tax was raising what was anticipated and that "economically inefficient" taxes could not be sustained.
The CBI has said the tax rate should be phased out during this Parliament as it is a "critical blocker" on employers attracting top talent to the UK and keeping them here.
But senior Lib Dems have made clear that should the 50p tax band be phased out, then it would have to be replaced by another tax on the wealthiest in society.
Business Secretary Vince Cable has indicated that a tax on expensive properties - similar to the so-called "mansion tax" he floated before last year's election - or a wealth tax could be reconsidered.
Mr Osborne insists the most well-off are making a fair contribution to the process of reducing the deficit through a permanent bank levy, the rise in capital gains tax and a tougher crackdown on tax avoidance and evasion.