It took a riot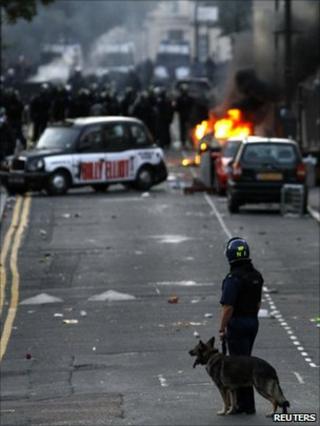 David Cameron's advisers used to worry that few voters could identify his mission in politics beyond deficit reduction or "the cuts".
He'd tried the Big Society but it was an idea which never really took off.
Last week's looting and wanton destruction is now being treated as an opportunity to return to the theme which the prime minister began his leadership with - "mending the Broken Society". Cameron always saw his brand of "modern, compassionate Conservatism" as about "society, stupid" rather than "the economy, stupid".
Proof of this comes in the prime minister's speech today in which he promises to: "review every aspect of our work to mend our broken society, on schools, welfare, families, parenting, addiction, communities, on the cultural, legal, bureaucratic problems in our society too; from the twisting and misrepresenting of human rights that has undermined personal responsibility, to the obsession with health and safety that has eroded people's willingness to act according to common sense - and consider whether our plans and programmes are big enough and bold enough to deliver the change that I feel this country now wants to see.
"We must fight back against the attitudes and assumptions that have brought parts of our society to this shocking state.
"We know what's gone wrong: the question is, do we have the determination to put it right? Do we have the determination to confront the slow-motion moral collapse that has taken place in parts of our country these past few generations."
When it comes to the economy David Cameron feels that he is, at best, waiting on events elsewhere and, at worst, the victim of them as the eurozone crisis and US debt crisis have shown.
In contrast he feels that he and his government can make an impact on reforming family policy, welfare reform and discipline in schools. Expect to hear much more on them in the weeks to come.
Ed Miliband will not, of course, leave the field open for his opponent. In his speech today he declares that deprivation matters as well as what he calls "culture".
He declares that: "of course, not everyone who grows up in a deprived neighbourhood turns to crime - just as not everyone who grows up in a rich neighbourhood stays on the straight and narrow.
"Individuals are responsible for their actions - and every individual has the choice between doing right and doing wrong.
"But there are connections between circumstances and behaviour."
He then reveals that these are actually the words of David Cameron in a major speech five years ago.
As so often with major events politicians use them to argue for what they always believed in. The autumn will now have two battle grounds - economic growth and how to improve society.
PS Whilst party leaders are speech making I have snuck away on my holidays. The blog and I will be back in September.