Learn from Thatcher on police numbers - Ken Livingstone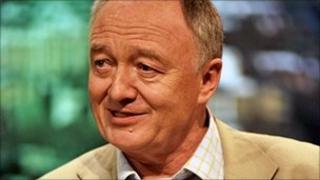 Ken Livingstone has suggested the government should follow the example of his 1980s political foe Baroness Thatcher on police numbers.
Labour's London mayoral candidate had some rare words of praise for the former Tory PM, in a BBC interview about riots and looting across England.
She recognised the need to recruit more police during a recession and ministers should look at her "lesson", he said.
His Tory rival, Boris Johnson, has said it is not the time for police cuts.
But Mr Livingstone accused him of agreeing to budget cuts that would see police numbers in London reduced by 1,900 over the three years following the Olympics.
'Depressing'
Labour say London police numbers peaked at 33,404 in July 2009 - and according to a report by the police watchdog Her Majesty's Inspectorate of Constabulary published in July, and will fall to 31,460 by March 2015, as a result of budget cuts over four years.
Those figures have been disputed by London's deputy mayor Kit Malthouse, who said they were "cobblers".
But Mr Livingstone, who was London mayor from 2000 to 2008 and will run again for Labour next year, said it was "depressing" there were still plans to cut police numbers.
"I was able to increase police numbers by 7,000 in my eight years as mayor, I didn't ask the government's permission, I asked the commissioner of police 'how many police do you need to cope with problems in London'?"
He had some words of praise for his political foe - former Conservative prime minister Lady Thatcher - with whom he clashed when he was leader of London's GLC in the early 1980s.
"They should just look back to the lesson of Mrs Thatcher. When she went through the great recession in the early 1980s, she knew what was coming, she recruited more police.
"All this year officers in the Met have been warning the mayor and the government there is a real danger of civil disturbance on our streets, and they failed to act."
Earlier Mr Johnson, the current London Mayor, had called for a rethink on cuts to police budgets, putting him at odds with fellow Conservatives in government.
"This is not a time to think about making substantial cuts in police numbers," he told the BBC.
But Prime Minister David Cameron said cuts - part of the government's efforts to reduce the UK's budget deficit, which it says is necessary for economic stability - would not affect "visible policing".
He said: "We won't do anything that will reduce the amount of visible policing on our streets. The last 48 hours has actually demonstrated how we can get a lot out of what we currently have, visible policing. We won't do anything that puts public safety at risk."
London's deputy mayor Mr Malthouse told the BBC last month that the Metropolitan Police figures in the HMIC report were based on old figures, some were forecasts and were "changeable".
Money has been moved from other parts of the mayor's budget to keep police numbers up and Mr Malthouse said he had been asked to maintain police numbers at around 32,500 and they were looking at ways of getting the funds to do so.