Osborne to make Commons statement on UK economy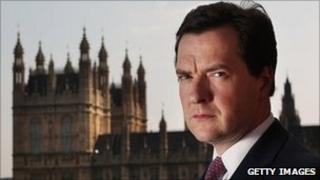 Chancellor George Osborne is to address MPs following the recent economic turbulence and the Bank of England's downgrade of its UK growth forecast.
The Bank has cut its 2011 growth forecast from 1.8% to about 1.5%, predicting that inflation was on course to hit 5% this year.
A Treasury spokesman said the British economy was "continuing to grow" and "creating jobs".
But Labour argued that the UK recovery had been "choked off" by spending cuts.
Mr Osborne wrote in an article for the Daily Telegraph on Monday that the government had a plan for growth which included lower corporation tax rates, less regulation for small firms, welfare reform, planning changes and lower taxes for entrepreneurs.
But he added: "We will take further action this autumn. Indeed this crisis provides an opportunity to make some difficult trade-offs in favour of growth that might get parked in the 'too difficult' box in calmer times."
Shadow Treasury minister Chris Leslie seized on the Bank of England's quarterly inflation report, which he said demonstrates that the government is guilty of "complacency".
Mr Leslie noted: "The Bank of England has now downgraded its growth forecast for this year five times since George Osborne became chancellor.
"Far from being a safe haven, as our chancellor complacently claims, last year's recovery in Britain has already been choked off by tax rises and spending cuts which go too far and too fast.
"Our economy has barely grown for nine months, well before the problems of recent weeks, and borrowing is now set to be £46bn higher than planned."
But the Treasury spokesman defended the government.
"As the Bank's report states, global conditions have had an impact on growth around the world," he said.
"But whilst no country is immune from the current global uncertainty, the British economy is continuing to grow and is creating jobs."
He concluded: "The decisive action taken by the government is helping to keep down the costs of borrowing for British businesses and provide the conditions needed for sustainable growth."