All MPs have sexual magnetism, MP Paul Flynn says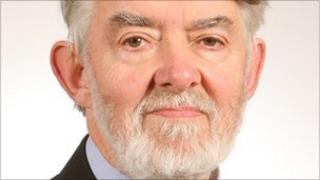 A 76-year-old Labour MP has said he and his parliamentary colleagues have an inescapable "sexual magnetism".
Paul Flynn told the BBC it was a "complete mystery" how even the "ugly, foolish and frail" became more attractive after being elected.
This led to "dangerous" situations where marriages were often put at risk.
Mr Flynn has updated his book, How to be a Backbencher, with advice for younger recruits on how to cope with life at Westminster.
The chapter, "How to defuse sexual magnetism", quoted in the Daily Telegraph, offers some tongue-in-cheek suggestions, including taking regular cold baths and going to bed early with a glass of milk.
'Think about death'
But the Newport West MP, who has been married to his second wife for 26 years, admitted it would always be difficult for MPs to keep longstanding relationships going.
He told the BBC: "It's a complete mystery but there's not much doubt that the two little letters [MP] after the name do enhance the allure of women and men when they get to this position.
"It's difficult to explain it but very dangerous in these situations where MPs find themselves when they are away from their spouses for four or five days a week, in circumstances where they are working closely, often, with members of the opposite sex."
Mr Flynn added: "I find it totally mysterious myself because MPs come in all shapes and sizes and they are the ugly and the foolish and the frail - all kinds.
"But there is this attraction. One MP told me about his own exploits and it certainly helped that he was an MP.
"If you know people who are turned on by politics they are more likely to be attracted by people who are adept at the political game, in the same way that people who are musicians or racing drivers would be attracted by high skill in that area."
But temptations can be overcome, Mr Flynn said, using some age-old techniques.
"The advice that's been handed down over the centuries is that you take many cold baths, you go to bed early, alone, with a glass of milk, and you fill your mind with thoughts of death, electoral defeat and the corruption of the flesh."
Mr Flynn's book - an update of the 1997 original - also includes advice for MPs on how to use Twitter.
He says he tries to stick to the 140-character limit imposed on tweets when writing his oral questions for the House of Commons.
"If you do it this way your questions are much more pithy. You make every word count, without any verbal Polyfilla," he said.