Charities 'hit by funding cuts'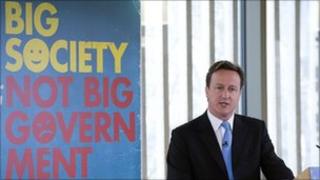 More than 2,000 charities across England have had their funding cut or withdrawn altogether by local councils, according to research.
The study by anti-cuts website False Economy was based on over 250 Freedom of Information requests responses.
The cuts total more than £110m in this year, but the final figure could be far higher, its report claimed.
Local government minister Bob Neil said the government was offering charities help to move away from state funding.
A quarter of all charities receive funding from the state and for some groups - such as employment and training organisations - it can make up the bulk of their income.
'Big con'
Research for the False Economy website - a resource hub for the anti-cuts movement supported by the Trades Union Congress (TUC) - found it was charities related to children and young people that were most affected, with more than 200 receiving cuts in funding.
Some care services, groups for the disabled and support for the elderly are also affected - for example Age Concern Oldham will see its funding reduced from £212,892 to £31,000, while the Voluntary Action South Leicestershire (VASL) has lost £20,939 state funding for its befriending service, which supports those who are isolated and lonely.
Birmingham was the council that had made the biggest number of cuts, although it is the largest local authority in the UK.
Charities play a key part in Prime Minister David Cameron's concept of the "big society", which encourages greater personal and family responsibility and community activism.
TUC general secretary Brendan Barber said the figures showed that the idea charities can replace direct services currently provided by central or local government was false.
"It sounds great, but in practice the Big Society is looking more and more like a big con," he said.
'Challenging decisions'
Peter Kyle, from the Association of Chief Executives of Voluntary Organisations, told the BBC demand for charitable services has significantly increased - and cutting funding will simply create costs elsewhere.
"Nobody knows how to deliver more for less, how to deliver bang for the buck, than the voluntary sector when it comes to supporting vulnerable people in society. And what the government needs to do is to learn from that expertise not actually eviscerate their ability to deliver at this tough time," he said.
Gillian Guy, chief executive of the Citizens Advice Bureaux, which is facing cuts in councils across England, said it was "seriously concerned" by the cuts, which were coming "at a time when we are facing increasing demand and need".
"And this isn't the whole picture, we are actually facing a triple whammy at the moment, with cuts to legal aid and the end of the Financial Inclusion Fund on top of local authority cuts. Our concern is not just for our bureaux as things get worse and they face closure, but principally for our clients who won't have anywhere to turn," she said.
Labour's deputy leader Harriet Harman said the impact of cutting funding for charities will be "devastating" and called on the government to conduct a review.
Ms Harman told the BBC: "[The government] says they support voluntary organisations. Well we're challenging them do a review now before it's too late. Many of these organisations took years to establish, we don't want them wiped out."
'Short-sighted' approach
But Mr Neil said: "This is hypocrisy from Labour and left-wing trade unions. It was Labour who maxed out the nation's credit card, leaving an interest bill of £43bn a year on our debt. This is three times more than the amount spent last year on grants to the voluntary sector."
And in response to the report, the government said although councils had "challenging decisions" to make around how they prioritise spending, they must resist passing on "disproportionate" savings to the voluntary sector.
A spokesman for the Department for Communities and Local Government said: "In their approach to budget setting, the best councils are showing that they understand that a strong, thriving voluntary sector is more important now than ever and could be the key to providing high quality, good value services to their residents. But this is not the case everywhere.
"Councils that are failing to recognise the importance of the sector are being short-sighted in their approach."